The 25 Best Independent Toy Stores in America
From toy train emporiums to massive shops stacked with every plaything you could imagine, these are the 25 best independent toy stores in the country.
by Aaron Stern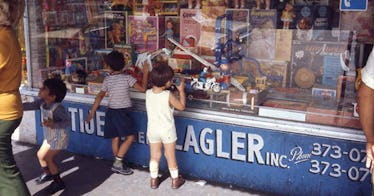 Independent toy stores are the kinds of places you get sucked into off the street. You're on the way to someplace else, with kids or without, step in, and you emerge an hour later in a happy daze, whether you bought something or not. They are the kinds of places people seek out for an afternoon of fun, for toys you can't find in a big-box retailer, or for the expertise of salespeople who know a ridiculous amount about toys, and games, and which building blocks will be perfect for your kid.
RELATED: Holiday Gifts: The 20 Best Kids Toys
And while nobody would argue that big-box retailers and online shopping have made life tough for a lot of local businesses, independent toy stores have hung on (to varying degrees) because of these virtues. It's the intangibles that their behemoth competitors don't possess, not to mention the events they host, that make many local toy shops such integral parts of their communities. And, hopefully, keep them in business.
ALSO: The Best Toys And Games To Turn Your Backyard Into a Kids Obstacle Course
Contrary to popular belief, there are still a lot of amazing independent toy stores around the country. Enough to make whittling down the best a challenge. The stores on this list were chosen for meeting many or all of these criteria: they offer a wide selection of toys; sell specialty toy products you won't find elsewhere; boast long histories serving their communities; have won awards; and come highly reviewed by other trusted sources.
MORE: The Best Inflatable Water Slides And Water Toys to Turn Your Backyard Into a Water Park
Better still? They cover all regions of the United States. Which means no matter where you live in the lower 48, you're never more than a long day's drive from one of these stores.
Best Independent Toy Stores in the Midwest
Big Fun
Location: Cleveland Heights, OH
Year Established: 1991Specialty: Vintage Collectibles ('80s & '90s)The Lowdown: If it was sold in the '80s and early '90s at a toy store, you can get it here today. (You can take your own kids there too, but it's not a requirement.) Star Wars and Ghostbusters figurines? Absolutely. Original Transformers like Sea Spray and Cosmos? Yup. Vintage G.I. Joe action figures (not the dolls) like 1984 Roadblock (that's a .50 cal Browning, not an M60, in case you forgot) and Major Bludd (primary specialty: terrorist)? Check and check. Original WWF action figures like Hulk Hogan and Andre the Giant? Of course. They also sell everything from belching powder to Beavis & Butthead temporary tattoos. We could go on and on, but you get the point, and we have to book a flight to Cleveland.
LARK Toys
Location: Kellogg, MN
Year Established: 1983Specialty: On-Site Activities & EntertainmentThe Lowdown: LARK Toys is as much a toy store as it is a wholesome alternative to Chuck E. Cheese's, and it's worth every minute of the almost two-hour drive from downtown Minneapolis. Yes, there are plenty of toys for sale. But there's also a carousel, a bookstore, an antique-toy display, and an 18-hole mini-golf course. Since you're going to be there for a while, it's a good thing there's also a cafe offering sandwiches, salads, and snacks, plus homemade fudge. Oh, there are also mini llamas that kids can get up close and personal with ⏤ their names are Francis, Irving, and George.
Quake Collectibles
Location: Chicago, IL
Specialty: Vintage Collectibles ('70s & '80s)The Lowdown: This beloved hole-in-the-wall is packed floor-to-ceiling with '70s and '80s vintage toys and figurines: Star Wars, Star Trek (the more Stars the merrier), Freddy Kruger, Conan the Barbarian, Optimus Prime ⏤ you get the picture. Model car sets, Legos, and even comics round out the offerings. In addition to the Chicago location, there are also suburban satellite outposts in nearby Evanston and Roselle, Illinois.
Rotofugi
Location: Chicago, IL
Year Established: 2004Specialty: Designer ToysThe Lowdown: Husband-and-wife duo Kirby and Whitney Kerr opened this Chicago storefront more than a decade ago to sell original, limited-edition toys created by independent designers and artists from all over the world. Since 2007, they've also prominently featured the work of Chicago-based producers, including vinyl figures, blind box, and pop-culture toys and collectibles, as well as art magazines, posters, and artistic homewares. There are also monthly art exhibitions and adult-only events like drink & draws.
Best Independent Toy Stores in New England
A2Z Science & Learning Store
Location: Northampton, MA
Year Established: 1987Specialty: Science/Developments Toys & GamesThe Lowdown: This science-focused toy store caters to budding builders and engineers. You can find standard toys here, but the shelves are dominated by education-oriented materials. The store hosts local competitions, from haiku and Lego-building showdowns, and there's even a yo-yo school. Need an example of how valued toy stores are to their communities? In 2015, A2Z founder Jack Finn was named Person of the Year by the Daily Hampshire Gazette for his lifetime of community involvement.
Amato's Toy and Hobby
Location: New Britain, CT
Year Established: 1940Specialty: Wide SelectionThe Lowdown: The late Vincent Amato started selling model airplanes as a teenager in 1940 out of his dad's plumbing supply shop. That humble start begat a local toy-selling legacy that today is carried on by his three children across two stores. Amato's sells pretty much everything you'd expect from a store that's honed its craft for seven decades, from classic and new toys and games to hobby items like model trains, cars, and rockets. And at a store that prides itself on selling American-made products, you can also stock up on authorized Boy Scout and Girl Scout uniforms.
Charles Ro Supply Company
Location: Malden, MA
Year Established: 1972Specialty: Model TrainsThe Lowdown: If there's a heaven for model-train enthusiasts, this is it. The Charles Ro Supply Company is the country's leading Lionel Trains dealer, and its 50,000-square-foot warehouse and showroom feature a 32-foot x 16-foot operating layout with six trains running non-stop, from 10 a.m. to 4 p.m. every Saturday. The company started out as Charles Ro, Sr.'s side gig that he ran out of his beauty salon, but the hobby business became so lucrative that he dropped the curling irons and went whole-hog into trains.
Josh's Toys & Games
Location: Manchester, NH
Year Established: 2008Specialty: Wide SelectionThe Lowdown: If you want to buy toys from someone who was recently a kid himself, Josh Heinzl has you covered. Now 24, Josh Heinzl stumbled into selling toys online when he was scouring for supplies for his Lego robotics team. He quickly learned how to buy and sell for a profit, and promptly opened his own retail store in a local mall ⏤ at the age of 15. Today Josh's Toys & Games has five locations in the New England area, stocked with a range of games, from tabletop RPGs to such standard fare as puzzles.
Best Independent Toys Stores in the Northeast
JaZams
Location: Princeton, NJ
Year Established: 1996Specialty: Wide SelectionThe Lowdown: This proudly local establishment is packed with wonder on the inside, with countless mobiles hanging from its vaulted ceilings, with toys stacked on shelves nearly as high, and perched in packs on exposed horizontal beams. Those toys are for children of all ages and interests, from plush & puppets and science sets to bath toys, books, musical instruments, and even classic toys like Chatter Telephone and three-way cup-and-ball. And as part of its community-centric roots, the store sponsors and spreads the word about many local events, like block parties, book releases and the like.
Labyrinth Games & Puzzles
Location: Washington, DC
Specialty: Tabletop Card & Board GamesThe Lowdown: Fantasy and tabletop roleplaying games are the name of the game at Labyrinth, and events and tournaments are a huge part of the store's mission. There is a weekly Friday night Magic: The Gathering tournaments, monthly board game battles, Pokémon clubs, and so on. Not only can you take your kids here to initiate and immerse them in all things RPG, but once a month you can drop them off and say goodbye ⏤ one Saturday night a month, kids 7+ are hosted from 5-9 p.m. with pizza and games, while you go have some fun of your own.
Mary Arnold Toys
Location: New York, NY
Year Established: 1931Specialty: Personal Shopping & Delivery ServiceThe Lowdown: After NYC's F.A.O. Schwartz shut its doors in 2015, this iconic toy store became the longest continually running toy store in the U.S. And true to form for any company used to catering to busy New Yorkers, Mary Arnold offers a personal-shopper service ⏤ in-person or over the phone ⏤ and free local delivery for those who need gift-giving advice, and/or are trying to cram gift-buying into their busy schedules.
Playthings, Etc.
Location: Butler, PA
Specialty: The Space-Themed BuildingThe Lowdown: Tucked near in the small town of Butler, Pennsylvania is Playthings, Etc, which is known as the World's Coolest Toy Store. It's easy to understand how it got its name: the angled metal shop, which looks like a sort of fallout shelter from a time long ago or a crashed stealth bomber, is home to more than 3,000 puzzles, games, and rare toys. It's a treasure trove of playthings, and the best part is that putting your — and your kid's — hands on the merchandise is encouraged (employees are happy to demonstrate everything, too). Come during June and July, and your kids can participate in a rolling treasure hunt (trackable on Facebook) of 20 different items.
Best Independent Toy Stores in the South
Gods & Monsters
Location: Orlando, FL
Specialty: ComicsThe Lowdown: This is a nexus for all things comics: the comics themselves, plus t-shirts, figurines, giant displays (like a life-size Krang) ⏤ you name it. And since comics appeal at least as much to adults as they do children, Gods & Monsters takes catering to fans of all ages seriously: Grownups can come for the comics, and stay for the bar that's open Wednesday through Sunday evenings (presumably someone's taking your children home after dinner time). There's also a huge area with tables and benches for playing board games that doubles as event space for hosting release parties, cosplay parties, and movie viewings.
O.P. Taylor's
Location: Asheville, NC
Specialty: Non-electric toysThe Lowdown: O.P. Taylor's store has three North Carolina locations, but the flagship in downtown Brevard is the one that seems to wow people most, sucking them in for hours at a time to its colorful chaos, where toys pack every inch of wall space and drip the banisters leading to the store's second floor. The toy offerings focus on physical toys, and very few have batteries or electronics. One of the few exceptions to that rule is a winding electric racetrack nestled in all the mayhem for customers to play. There's also ample candy for sale, because you'll definitely want your kids nice and sugared up in here.
Smart Toys and Books
Location: Knoxville, TN
Year Established: 1991Specialty: Developmental ToysThe Lowdown: The focus here is on toys that stimulate learning and development, through hands-on application and incorporating imagination ⏤ toys are listed online here by the qualities and skills they require for children, from independent play, cooperative play, and motor skills, to visual, creative, language, logic, and music. There's also an interactive playground that is a destination unto itself, and there's a space parents can book to host parties.
Toy Joy
Location: Austin, TX
Year Established: 1987Specialty: Quirky & Nostalgic GiftsThe Lowdown: Looking for a mock yearbook with only cats inside? Maybe you have a loved one who would love a Weird Al Yankovic figurine, or, perhaps you, yourself, would love to take home a "Golden Girls" puzzle? If any of these things strike your fancy, Toy Joy has you covered. Located appropriately in the downtown of a city that prides itself on its oddities, Toy Joy specializes in eclectic gifts, with everything from Japanese toys and blind boxes to novelty trinkets, and musical and outdoor toys. And this summer, Toy Joy took over the storefront next door and opened Yummi Joy, which sells candy, ice cream, and coffee, so you can fuel up before, after, or during your visit.
Best Independent Toy Stores in the West
Ambassador Toys
Location: San Francisco, CA
Year Established: 1997Specialty: Wide SelectionThe Lowdown: In as poignant a sign as could be of the changing time, in 2014 Ambassador Toys was named the readers' choice for the best toy in the Bay Area by the San Francisco Bay Guardian. It was the independent paper's 48th and final year of operation, gone now the way of many other similar publications. But Ambassador Toys lives on and continues to be a favorite of locals and visitors alike, who flock to any of its four locations for a wide array of educational and developmental toys, arts & crafts, and games.
Archie McPhee
Location: Seattle, WA
Year Established: 1983Specialty: OdditiesThe Lowdown: A toy store as much for adults as (probably older) kids, Archie McPhee is best explained via some of its inventory: Rosie the Riveter punching puppets; finger hands (tiny rubber hands you can stick to the end of your fingers; librarian action figures (based on an actual Seattle librarian); cat bonnets; rubber chickens; horse head masks ⏤ you get the idea. Clearly, the store makes many of these things for itself (actually, the production facility begat the toy store, the story of which is a great read).
Dinosaur Farm
Location: South Pasadena, CA
Year Established: 1994Specialty: Model Airplanes (just kidding, it's dinosaurs)The Lowdown: Spoiler alert: this place has enough dinosaur things to make a dino-obsessed child hyperventilate: Toys, clothes, books, backpacks, DVDs, even dino trains. Heck, the store's walls are painted with a dinosaur jungle scene. But owner David Plenn, a former musician who swapped music for selling toys when he became a father, stocks his shelves with much more than just prehistoric curiosities, with plenty of puzzles, games, trucks, and trains to satisfy even those who don't dream of dinos.
Finnegan's Toys & Gifts
Location: Portland, OR
Year Established: 1977Specialty: Wide SelectionThe Lowdown: This store is a suitably quirky representative of its town, and for 40 years has offered everything from Etch-a-Sketch's and realistic Schleich animal figurines to tea sets, boomerangs, binoculars, and catapults. The focus here is on the non-generic, or, as the store proclaims on its site: 'Toys for the future scientist, engineer, designer, or goofball.' Finnegan's bears the nickname of its owner, Karen Leppmann, whose older brother bestowed the moniker from the children's song on her at a young age.
Games of Berkeley
Location: Berkeley, CA
Year Established: 1980Specialty: Tabletop Card & Board GamesThe Lowdown: Tabletop games are the big draw of Games of Berkeley, as are the game rooms that hold casual get-togethers and tournaments to play those games. That lineup of events includes Monday 'Casual Card Game Mondays;' 'Thursday Board Game Night;' "Dungeons & Dragons" league play, and many, many more ⏤ the calendar is packed with scheduled events every night of the week. Got your own game you want to host? You can book private events here, too.
Kappa Toys
Location: Las Vegas, NV
Year Established: 2014The Lowdown: Lizzy Jane Newsome Yopp and her husband, Trevor, opened Kappa in 2014, quickly building a strong local reputation that enabled them to expand into a second Vegas location earlier this year. At each spot, you'll find a wide selection of toys for kids of all ages, from dinosaur figurines and shape-based toddler toys, to mechanical kits, books, gag gifts, and Japanese toys.
KidStop Toys
Location: Scottsdale, AZ
Specialty: Educational Toys & BooksThe Lowdown: This beloved toy boutique has taken home multiple Best of Phoenix awards, thanks to its wide assortment of educational toys and books. That includes things like art supplies, robotic science kits, and wood-building toys, all tailored to your needs by staff who understand what works for which children. Customers can sign up for an online gift registry, and the store also prides itself on its creative gift-wrapping, and its commitment to supplying safe, age-appropriate toys. And if you're lucky, you might see Murphee (a dog, and the store's unofficial mascot) roaming the aisles.
Timbuk Toys
Location: Denver, CO
Year Established: 1993Specialty: Locally Made Toys and EventsThe Lowdown: Owner Sallie Kashiwa opened Timbuk Toys 25 years ago to give kids hands-on experiences they wouldn't get at big-box chain stores. Today that dream has expanded to four locations, with an ethos rooted in personalized service, including taking toys out of their packaging for customers to inspect before they buy them, and a large selection of toys made by Colorado-based companies. There are also in-store events like Songs for Seeds (named Best Kids' Music Class by New York Magazine in 2010), where kids can jam out on children's instruments alongside the adult musicians.
Toy Safari
Location: Alameda, CA
Specialty: Developmental SkillsThe Lowdown: For more than 25 years, each item that stocks the shelves here has passed the three questions of the Toy Safari toy-selection test. First, will a child relate to it? Second, will the toy inspire play and discovery? And finally, will the style of play evolve as the child grows? That can include more constructive toys like building sets and arts & craft, to more conventional items and collectibles like vintage Star Wars figurines. Because anyone who says learning about the intergalactic battle between good and evil isn't educational just doesn't get it.
This article was originally published on