The Best Heated Winter Gloves & Jackets To Keep You Warm
These heated gloves, jackets, and socks will make freezing temps feel like summer.
by Doug Schnitzspahn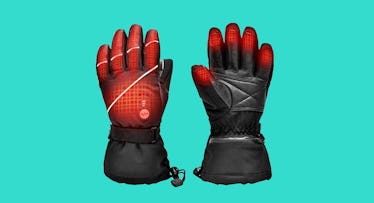 Cold days can be dreamy when you're skiing or snowboarding, but it's no fun if you're uncomfortably frigid. And that's where heated winter gloves and jackets, essentially space heaters you can wear, come in handy.
They're ideal for those of us who work outdoors and every parent has had to suffer through sitting on the sidelines during a cold sporting event, or wear winter boots to see them play hockey on a frozen rink. The following heated gear keeps all your most important areas nice and toasty so you can enjoy the bounties of winter.
Pros: Cold? What cold? This jacket heats up your back, chest, and pockets. You control your internal temperature and will never again be the victim of erroneous weather reports. Plus, it's chic and lightweight.
Cons: The battery doesn't necessarily last as long as promised, in some cases.
Pros: This vest comes with five different heating zones, two of which align with pockets on the front so you can keep your hands toasty too. The battery can keep you warm for 10 hours and charge your phone in a pinch.
Cons: It's a vest that leaves your arms out in the cold and, weirdly, the smallest size it comes in is medium.
Pros: These are ideal for all your cold weather pursuits, including hiking, hunting, and skiing. The sockc come with two rechargeable batteries and a charger.
Cons: The socks don't get hot enough for some customers.
Pros: There's no compromise in skiing performance here: The boot is the same Twinframe 2 shell construction you would get in the standard X-Pro. It's a crowd pleaser of a boot that provides all the stability and stiffness to rail turns on groomers or pound through fresh snow, but it doesn't torture your foot with a crazy-tight race fit. The heat comes in form the Custom Heat Connect liner system. That provides up to 18 hours of warmth that can be controlled via Bluetooth app on your phone. The boot is an absolute game-changer for anyone who can't focus on skiing due to frozen toes.
Cons: It takes the battery up to 8 hours to charge fully.
Pros: This heated boot bag will plug into a wall outlet or the 12V spot in your car and keep those boots warm until you slip them onto your feet. You can heat up two pairs on boots in the roomy bag or just one pair of boots and your jacket and the rest of your gear. Plug it in while you are making breakfast and/or during the drive up the hill and you will never battle with those stiff, frigid boots in the parking lot again.
Cons: Some wish it had a higher heat setting.
Pros: Both glove layers are touchscreen compatible, so you don't have to take them off to use your phone. The battery pack is located near the wrist, a placement the gloves' designers said would keep it out of the way and your gloves comfortable.
Cons: These gloves are pricey, with styling that isn't anything to write home about. They last up to six hours on the lowest setting but just two and a half if you want to crank them up on the coldest days.
Pros: This jacket heats your left chest, right chest, and middle back thanks to a 7,400 mAh battery. It has short circuit protection that cuts power if something goes awry and is water- and wind-resistant to boot.
Cons: Several reviewers said the sizes run very small, so you might want to risk ordering up to prevent a too-tight fit.
Pros: Founded by a woman who was tired of being constantly cold and missing out on family fun, Gobi gives you three settings in these hot pants and the control is easy to operate and read even when you are wearing gloves.
Cons: The only con seems to be the rather high price.
Pros: The touch sensors on the index finger and thumb promise to work on your iPhone and other smart devices. And these gloves include rechargeable lithium polymer batteries with three heat settings.
Cons: Again, some had issues with the lack of heat in these gloves, and the battery life. Or lack thereof.
Pros: Seriously, your butt is essential when it comes to heat loss. Sit on cold ground and conduction causes that heat to go from your body to try to warm up the earth. This happy fanny pad comes with three settings, ramps up to a toasty 130 degrees, and lasts about five hours on a charge.
Cons: You may want something firmer, or conversely, softer, depending on your needs.
Pros: Activate them by crushing the packet and then insert it in your kid's glove or mitt. No reason why parents can't use them either. There are toe warmer options that you can fit, with some work in a winter boot, but the tight fit of ski boots usually means they are not a viable option when riding the lifts. They claim to give 10 hours of heat: Count on a half day of skiing. Since most of the heated gear on the market is built for adults—rather than to fit kids who grow out of expensive stuff—these inexpensive life savers are often your best option.
Cons: They're disposable, and not reusable, which isn't a great thing if you're eco-minded.
Every product on Fatherly is independently selected by our editors, writers, and experts. If you click a link on our site and buy something, we may earn an affiliate commission.
This article was originally published on