The Best New Camping And Adventure Gear From Outdoor Retailer 2016
Rooftops tents! Aquatic StairMasters! Invisible mosquito domes!
by Dave Baldwin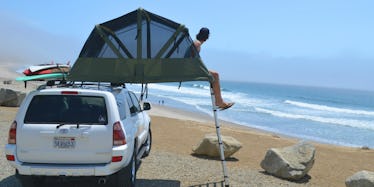 Summer may be winding down (just leaving this handy Back To School Buyers Guide right here), but that doesn't mean you can't start planning next year's adventure with the kids. The Outdoor Retailer convention in Salt Lake City (think of it like the Consumer Electronics Convention in Las Vegas — but with more flannel) just dropped a bunch of brand new and updated survival gear for the family. Here are 10 items that you're going to want to ask Camo Santa for this year.
Tepui Baja Series Roof-Top Tents Why it took so long for rooftop tents to become a thing in camping is anybody's guess (more camping tips they don't want you to know about). But they're here now and that's all that matters. Tepui's soon-to-be-released Baja series will include 2, 3, and 4-person versions that all use a patented "Zipper Gimp" (no doubt kept in Zeke's basement) to attach one of 3 interchangeable seasonal canopies to the base.
Suunto Spartan Sport GPS Watch The only thing this super watch from Suunto seemingly won't do in the next Tough Mudder is jump the damn fire pit. What it does do is come pre-set for 80 different sports. It can track all your workout stats, includes a GPS route navigation to keep you from getting lost, and rocks a color touch screen that works even when it's covered in mud (or, less desirable, blood).
Cotopaxi Inti 2 Tent
The perfect 3-in-1 tent for a growing family. The Inti 2 starts as an ultralight 4-pound, 2-person backpacking shelter with a rainfly. Need space for 2 more? Snap on the alcove to double the tent's size. The vestibule's built-in nylon floor ensures that the kids aren't sleeping on the ground. And if your snoring is driving the whole family nuts, banish yourself from the main tent and sleep by the river in just the alcove, which easily sets up as a bachelor shelter.
Hobie Mirage Eclipse SUP
The Hobie Mirage Eclipse works just like a StairMaster, but more buoyant. Dubbed a new breed of stand-up, convertible paddle board, it comes in 2 sizes (10.5 and 12-feet) and features rudder controls built into the handlebars. It even has a spot for fishing tackle on the back. Because, face it, you're not going to look any cooler on this thing.
Columbia's OutDry Extreme ECO Shell Outdoor rain gear is great to wear in nature, not great for nature. That's because most jackets use environment-screwing perfluorinated compounds (PFCs) in the fabric to repel water. This revolutionary shell from Columbia employs a different, more eco-friendly technology to keep water out. Like being made from 21 recycled plastic bottles, which you only thought kept water in.
Yeti Hopper Flip 12 It really boils down to how much a cold beverage in the middle of nowhere is worth to you? If the answer is at least $280, the Yeti Hopper's your move. This rugged soft-shell cooler is puncture-proof, holds up to 12 pounds of ice, and includes an air/watertight zipper that helps keeps stuff (like 12 pounds of ice) cold for days.
Gerber US-Assist S30V Knife And you thought your switchblade comb opened on a dime. This quick-draw pocket knife from Gerber can be easily extracted using either hand thanks to its dual thumb studs and trademarked ball-bearing system. This not only reduces friction, but emasculates your Swiss Army knife. The S30V also rocks a reversible belt clip, so you can wear it point up or point down. And the 3-inch blade is stonewashed — just like those jeans you can't wear in public anymore.
Pacsafe Vibe 20L Pacsafe's latest anti-theft backpack is designed to thwart the most skilled thieves and degenerate wildlife. Because you don't want your crap stolen at the KOA, the Vibe includes myriad anti-theft features: Slashguard straps; Material infused with stainless steel wire mesh; And an "RFIDsafe" blocking pocket to prevent digital criminals from scanning your information. You can also put a padlock on it. Terrific. The key is in the backpack.
La Sportiva Flash Kids Running Shoes For the 5-year-old trail runner who thinks Vibram FiveFingers are sooo played out, these technical kicks from Italian footwear specialists La Sportiva are designed with a tactile Frixion AT sole. Great for kids (ages 4 to 10) who need proper foot support, but still want to feel connected to the ground. And because you hate tying shoes more than they do, there's an easy BOA lacing system.
Thermacell Backpack Mosquito Repeller Mosquitos are assholes, and the world wouldn't miss their extinction. Yes, there's the whole ecosystem argument. But seriously, frogs can just go eat more flies or crickets. To speed up their eradication use this lightweight (4 oz.), backpack-sized repeller. It to uses same standard gas cylinder that connects to your stove to heat an insecticide-laced repellent pad, and purportedly creates a 15 x 15-foot bug shield over your campsite for up to 80 hours.
Want tips, tricks, and advice that you'll actually use? Click here to sign up for our email.
This article was originally published on