The Best Activity And Fitness Trackers For Parents
From triathlete to weekend warrior, there's one for every level of workout.
by Miguel Davide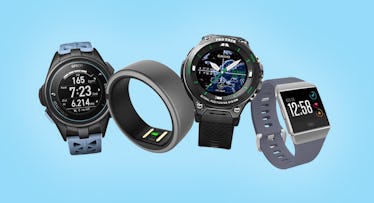 Nothing keeps you saner, healthier, and happier than sticking to your workout regimen — even when you're juggling a demanding job and a young family. But abiding by anything after you have kids, especially fitness goals, can be tough. It requires a lot of discipline and motivation, which is why the subtle insights gleaned from fitness trackers can be helpful.
RELATED: 9 Best Fitness Gadgets for Dads
All activity trackers do pretty much one important thing ⏤ register movement and show increased caloric burn. Most, however, do a lot more than that. They monitor sleep, track your heart rate, map running routes, sync to gym equipment, and in some cases, even download topographical maps so you don't get lost hiking. But which ones do it best? Cost the least? Are designed with serious athletes in mind? We sorted through the current crop of fitness trackers to find out. These are the best activity and fitness trackers for parents.
The Unobtusive Fitness Tracker: Motiv Ring
The titanium Motiv Ring is so stealthy it could easily be mistaken for a cool wedding band. It automatically tracks sleep, steps, all-day and workout heart rate, and active minutes when you hit the gym or head out for a run. Motiv doesn't yield deep-dive workout data, though, and the target user isn't someone who wants to set a world record in the triathlon. Instead, the fitness tracker gives you the broader goal of scoring 150 active minutes per week ⏤ anything from a brisk walk to box jumps count and the more you work your heart the more you're gaining on the goal. Motiv's accompanying iOS app (Note: no Android) lets you easily see your metrics and the ring pairs to your phone with a couple of twists. Battery life is also strong — we've seen well more than three days of life per charge.
The Triathlete's Companion: Epson ProSense 307
With 20 hours of battery life in both GPS- and heart-rate tracking mode as well as a sensible price point, the ProSense 307 smokes the Apple Watch ⏤ so it's ideal for athletes doing longer events, i.e. triathlons. But core functionality isn't just focused on running, biking, and swimming, it's also a great daily activity tracker and displays calorie consumption and goals toward a step target. It features auto-pause tracking (so if you stop, it stops), can help you hit training benchmarks like mile speed, and the GPS can be turned off for pool swimming and treadmill running to save juice. The only caveat with this serious fitness device: Not all your data exports to third-party fitness apps. Epson is betting you'll like their hardware enough to stick exclusively to their app.
The Phone-Free Heart-Rate Tracker: Polar OH1 Optical Sensor
While both wrist-worn fitness trackers and chest straps are accurate at keeping tabs on your heart rate, they can often be expensive and uncomfortable. Polar's OH1 combats both issues. Not only does it cost just $80, but it fits comfortably around your forearm or bicep (we've found it's more accurate higher up the arm), uses optical sensing to track heart rate, and will record up to 200 hours of workout data. So you can just wear it ⏤ no phone, no wrist device, no chest strap ⏤ and go. We found it to be accurate and give it a slight edge over the Wahoo TICKR Fit mentioned below, if only because the Wahoo doesn't have native data storage.
The Android User's Best Friend: Fitbit Ionic
Size matters. Way too many Android-compatible fitness trackers are massive, and while that's cool for the office (because big watches are cool), it blows when you're seven miles into a ten-mile run. Fitbit trackers have sold well historically because the company understands that all-day wearables have to be all-day comfy, and the Ionic fits that bill ⏤ it practically evaporates on your wrist. But with native GPS, four days of juice between charges, and push notifications from a ton of apps and devices, it's also powerful. You get onboard music storage, auto-run detection (you start running, it starts recording) and quick-start workout modes for lifting weights, spinning, treadmill running, etc. It also does an excellent job at sleep tracking. Only drawback worth mentioning is that while it does pair to iOS devices, the Fitbit app shares a little less info than on Android (largely an Apple issue, not a Fitbit one).
The Cyclists Companion: Wahoo TICKR Fit
Like the Polar, the Wahoo TICKR Fit uses optical sensing to track your heart rate and is best worn on the upper arm. The Wahoo's advantage over the Polar is that it uses something called ANT+ compatibility, not just Bluetooth. ANT+ is key to pairing the device to cycling computers and indoor/gym spin trainers. It's also more compatible with the Apple Watch. Unlike the Polar, however, it can't store data on its own ⏤ so you will need another device.
The Affordable All-Star Fitness Tracker: Garmin Vivofit 4
Let's face it, the last thing you need is one more device in your life that needs to be charged. The Vivofit feels you, and that's why it gets a full year of battery life from two tiny hearing-aid batteries. No, this isn't an uber fancy tracker ⏤ there's no heart-rate tracking, for instance. But it does use motion detection to differentiate between, say, a run and walk, a swim and a bike ride, and credits you toward daily fitness goals according to effort. It lets you tweak those on the Garmin Connect App, and it includes some clever features you won't find from rivals at this price, like the weather forecast, sleep tracking (rare in this price range), a move reminder, and a find-my-phone function.
The Outdoor Workhorse Fitness Tracker: Casio WSD-F20 Pro Trek
If your idea of a workout is throwing the grom in a Baby Björn and hitting the trail, the Casio WSD-F20 is your wearable. It's a clever Android Wear device with GPS modes for trekking, fishing, cycling, snow, and paddle sports. The very smart part is that you can also download maps for offline use (no cell required), including detailed trail and terrain maps from the ViewRanger app. The display is also super cool, as it allows you to see the map (or even a satellite weather map) behind the clock hands. Naturally, it also records altitude and barometric pressure, so you're aware of changing weather conditions, and there's a built-in compass. There's no heart rate function, but it does calculate caloric burn based on activity. And when you do have a cell signal, there's voice input to text, so you can exchange messages from your wrist without thumb typing.
The Versatile Champion: Samsung Gear Fit2 Pro
A more affordable option than the Apple Watch Series 3, but with a lot of similar tech, the Gear Fit2 tracks heart rate, has GPS, and offers push-through connectivity, such as text notifications, from both Android and iPhones. (Note: Apple phone connectivity isn't quite as fluid, so we prefer huddling it with Android or Samsung devices.) The Gear Fit2 Pro also runs all of Under Armour's fitness apps — which are excellent for social sharing and hitting your goals — as well as the Speedo On app to track distance, stroke, laps, and SWOLF efficiency. It's auto-sport detection stands alone in the market — it instantly "knows" if you're running, biking, or swimming, and a partnership with Spotify lets you pair playlists to your wrist, so you can work out and rock out without your phone anywhere nearby.