Make Their Job Easy With Fatherly's 2016 Father's Day Gift Guide
Un-tie yourself this year.
by Fatherly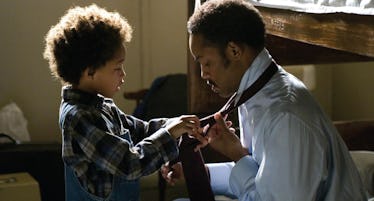 Because parenting is its own reward, you don't need any of this stuff right? Your family can just forgo the annual feting of your dad skills, or better yet, make you something homemade! Listen, this isn't an easy gig, so let the wife and kids get you those things that you deny yourself the other 364 days of the year. You need sharp knives and cold brew! You must have phone charging luggage and intelligent speakers! You should probably put on some swim trunks and soft underwear. This year you're going to hug your kids close, look them in their sparkling eyes, and not have to devastate their little egos by asking if they got a gift receipt.
FOR THE OUTDOORSMAN
Tentsile Hammock
Tentsile tents let you to turn any 3 anchor points (for your purposes, that's technical talk for trees) into an instant treehouse, which means your backyard just got a whole lot cooler. Made from the same material as your car's seatbelts, configurations come in 2, 3, or 6-person setups. You may be be thinking, this thing looks familiar. Ever see a little indie flick called Return Of The Jedi? Guess what? It's your turn to yub nub like it's Life Day.
Trillium Hammock, $250 Connect Tree Tent (2-person)
Vista Tree Tent (3-person)
Stingray Tree Tent (3-person)
Barebones Cooler Backpack
Sure, the Coolest is, well, the coolest, but it's hard to haul a kid when you're hauling … is that a blender? Seriously? The Maverick lets you bring nearly 2 cases to the picnic (or one case and a bunch of bottles, as it were) and still have hands free for kid toting because this cooler is a damned backpack. And you won't have to figure out where you're going to store a Winnebago-sized of cooler during the off-season.
Opinel Pocket Knives
Opinel have sold some 200 million knives in 126 years, many of which have been passed down by Crocodile Dundads to their kids, presumably on the first day of German forest kindergarten. Keep what's yours and give them My First Opinel, a replica of the original — one of the Victoria And Albert Museum's 100 best designed objects in the world — with a rounded tip for added safety. Research suggests exposing kids to risk early helps them better ascertain levels of risk later, and also handle themselves against a crocodile.
Opinel Pocket Knives
My First Opinel
FOR THE BREAKFAST, CAFFEINE, AND BOOZE-OBSESSED
OXO Cold Brew Coffee
Coffee is your lifeblood, so stop settling for that swill from the bodega next to your office and start enjoying smooth, delicious, low-acid, cold-brewed coffee any time you want it. Don't worry if you like it hot — cold-brew is just the name for the process of creating coffee concentrate with the aforementioned qualities. Feel free to enjoy your steamy cup o' joe with a side of hilarious, Seinfeld-esque dad jokes.
PancakeBot
Pancake art lessons from a record-holding master of such things are awesome (and totally free, you're welcome), but also require a lot of work. PancakeBot is the 3D printer-griddle mashup the world finally realized it needed, and a great option if you'd rather throw money at a problem than roll up your apron sleeves and deal with it yourself. As is your Father's Day right.
Mighty Mug Barware
Just like their unspillable coffee delivery system, Mighty Mug now makes barware that uses the same SmartGrip technology. The glasses sit on top of a suction cup that's activated by the weight from the beverage, so it can only be budged by lifting straight off a flat surface. Your cocktail won't spill, even if you're on a boat. And by boat, of course you mean your living room that a toddler is careening through like a Exxon tanker captain.
Mighty Mug Barware: Double Old Fashioned, Set Of 2 ($30)
Mighty Mug Barware: Wine Stem, Set Of 2 ($30)
Keyboard Waffle Maker
Novelty version of a kitchen appliance you probably already own? Or the novelist version? Father's Day breakfast demands your famous waffles, and this makes one long enough for your family to share. And the die-cast aluminum is pretty simple — no cords, and nothing to plug in. Just put it on the grill or directly over an open flame like your caveman ancestors did. That totally makes your waffles paleo, by the way.
FOR THE BOOKWORM
59 Illustrated National Parks
Plop this big ol' book on the coffee table, read it and gaze at the beautiful poster artwork with your kid, then fold it up and take them to all the parks. When you get back, you can compare the posters with your vacation photos, which just might land your kid a book deal of their own for you to manage. It's the Father's Day gift that keeps on giving.
Hamilton: The Revolution
Read Lin-Manuel Miranda's book with your family to buy yourself more time to find those Hamilton tickets you've been promising your wife since Mother's Day. The only thing less probable than you getting those tickets is a hip-hop Broadway musical about Alexander Hamilton that became a national phenomenon. But a book that provides the ultimate backstage pass? That's available in 2 days from Amazon Prime.
The Rap Year Book
If you learned everything you needed to know about parenting from hip hop, this book will teach you everything you need to know about your favorite songs and emcees. Starting in 1979, each year's most influential rap song is explained, illustrated, and infographic-ed, proving that not every picture book is a children's story. Except for the page about Slick Rick's "Children's Story."
FOR THE WORKING MAN
Raden A22 Carry-On Luggage
Because the TSA isn't getting any smarter (as evidenced by that security line wrapping around Terminal A 3 times), why not give your luggage a few more IQ points? The Raden A22 is a carry-on built like a battering ram that can be located via an app that works about a thousand times better than the airline's own luggage tracking system. It will even give your phone 4 full charges with its 7,800mAh battery. Coincidently this is the same amount of time it will take all those people in front of you to take off their shoes and belts.
Moleskine Smart Kit
The favorite notebook of your least favorite creative director has finally made good on its seemingly annual claims of inventing the world's smartest notebook … by actually incorporating smart devices. Watch in amazement as your freehand notes transform into digital (and editable, and storable, and shareable) ones in real time as you write with the Pen+ on the the Paper Tablet. Which is a tablet. Shaped like a notebook. Thanks, creative director.
Wipebook Pro
Wipebook Pro is a notebook of 20 dry erase board pages that, to let them tell it, allows you to sketch, draw, problem-solve, and take notes anywhere. You can undo, redo, rewrite, ideate, and whiteboard, or, uh, whitebook, to your little heart's content. That's all true, and if it suits you, great. But what truly makes this a great product for parent is that it allows your kid to do all of the above basically forever, or at least as long as you need to distract them while taking a work call during taco night.
FOR THE GADGET GUY
Amazon Tap
Think of this tiny speaker as Alexa Jr. (or whatever the female equivalent is). It's small enough to take to the beach, park, or barbecue, but houses 2 Dolby speakers that pump out substantial sound. And, when you're connected to Wi-Fi, it has all the same capabilities that Alexa Sr. provides in an Amazon Echo. Ask it for the local weather, to switch music stations, or place an order for more Taps … uh oh. It may have just become self-aware.
Jabra Wireless Headphones
Cables hanging off of your head is so 2010. The Jabra Move is an over-the-ear, high-quality listening device powered by Bluetooth that does away with cords. You can still take calls from your phone, just like with those lame earbuds, and it can be used for 8 hours on a single charge. But seriously, go ahead and keep embarrassing the kids with your antique headset. It's your prerogative as a dad.
TrackR Bravo
Because you're getting old and feeble of mind and body, you're going to forget stuff. Birthdays. Anniversaries. Kids at various friends' homes. The genius of the TrackR Bravo is that it won't let you forget. Just attach this coin-sized device to anything you need to keep close. It will ping your phone app if you're too far away, or play a game of hot and cold to let you know how near or close you are to finding your stuff. Feel the need to attach a TrackR to a TrackR? Maybe you should see a neurologist.
FOR THE FATHER WHO WEARS CLOTHES
Allbirds Shoes
The good folks at Allbirds in New Zealand decided to combine your slippers and your shoes into something you can wear to work, but feel like you're lounging at home. Made from breathable merino wool, they're soft enough to forgo socks, warm enough to wear in the winter, and comfortable enough to wear while napping under your desk after lunch. Not that you'd do that. But, with these shoes, you could.
Tom & Teddy Father/Son Swim Trunks
The weather is warm and it's time to set that dadbod free. What better way to distract all the single ladies on the beach then getting your kid a matching swim suit? Both are quick-drying shorts (nothing worse than a wet suit clinging to your buoys) that are salt, chlorine, and UV resistant. Choose from patterns like seagulls, kites, or — if you're feeling saucy — ice cream cones. It's because you're such a sweet guy, right? #Gotcha #SeeWhatIDidThere?
Buy Now $95 for men, $60 for boys
Tommy John Starter Kit
With Tommy John's scientifically engineered suite of wardrobe essentials, you'll look great, feel comfortable, and never have to adjust, even when fatherhood has you disheveled, exhausted, and overwhelmed. In spite of all that, your life just got a serious upgrade; it's time your underwear got the same.
WORLD'S BEST DAD GEAR
Tosan 'Pop' Mug
Tosan prides itself on being the brand for cool dads, and what's cooler than a mug that simply says "Pop"? Oh sure, there are some guys out there that need to be all braggadocious with a "#1 Dad," or "World's Best Dad," or "El Padre Suprema" written on their ceramic wear. But you will just calmly sip your coffee and know that your kids think you're the shit. As far as you know.
XLR8 Diaper Backpack
Finally, a diaper bag that won't embarrass anyone in the family. The large interior pouch of the XLR8 holds diapers, wipes, toys, and all the kid's stuff in a separate compartment from the laptop and tablet pockets. Five smaller pockets corral charging cables, pens, and keys. Insulated side and front pouches keep bottles and food fresh. It also comes with a 7800 mAh power bank to keep everything charged. Consider yourself a one-man child-rearing army.
This article was originally published on