The Best Diaper Bag Is a Camera Bag. Here are
They're tough, have exceptionally well-organized interiors, and are designed for easy one-handed access.
by Jon Gugala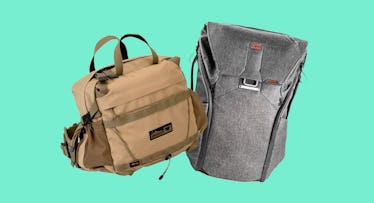 We've tested many, many diaper bags. And there are a lot of great choices. But, lately, we're convinced that the best diaper bags aren't currently marketed to parents; rather, they're marketed to photographers because the best diaper bag is a camera bag.
Think about it. With the ever-changing gear they lug around, photographers need a bag that offers a lot of compartments and customization options; when shooting, they need to quickly access the gear they bring (and often with one hand); and, finally, to haul said gear, photographers need a bag that can not only handle the delicate products but also be comfortable to lug around on location. Sounds familiar right?
In short, a camera bag offers everything a parent needs to lug around their baby supplies — and they look great, too. Here, then, are six excellent diaper bags that just so happen to be intended for camera gear.
Peak Design Everyday Backpack 30L
The one that started this whole story, the Everyday Backpack is our current favorite. Four Velcro-in shelves each divide into a triple section via an easy flip-up design, allowing you to customize a robust array of compartments as needed. Need a bigger main area? Just leave one of the inserts at home. In terms of other winning specs, there's a magnetic-latched top compartment as well as two side zippers that provide easy access when your hands are full, the bag is water-resistant , and there's also waterproof-zippered media compartment for a tablet or laptop.
Mission Workshop The Rhake + The Capsule
For those whose demand for fast access balances with their need for organization, The Rhake with supplemental The Capsule is your bag. Rhake, which is the actual bag, is built to survive for nasty weather, featuring a two-layer, nature-proof fabric. While its main compartment is smaller than other options at 22 liters, its abundance of tailor-made outer pockets is what sold us, with dedicated spaces for a laptop, iPad, phone, chargers, keys, sunglasses, and bottle.. The removable Capsule is the organizer's dream, with a lay-open design of padded-nylon compartments of various sizes, filled based on the needs of the day. The roll-top design of the main bag seals it all away when rucking to the next spot.
Portabrace BK
Like a tackle box for child supplies, the Vermont-made BK has two large compartments that, when zipped open, provide a clear view of their individual padded compartments. A larger space resides in each, but we loved the BK's uniform, easy-revealing smaller compartments (removable if not needed), which are a librarian's dream. The thick, plush should straps and waist belt tailor-made for heavy hauling have an added feature of converting from a backpack to a shoulder bag—a nice touch for changing needs by the day.
Thule Aspect
Everyday backpack up top and a dad's dream below, the Aspect was an easy pick for this list. Its lower camera compartments' flip-over design, accessible through the side, is awesome for sorting and securing gear you need, while the big, roomy upper compartment acts as a catch-all for those of us that don't need a dedicated space for every little thing. A 15-inch padded laptop and tablet compartment? Check. Thule knows how to haul gear, whether it's on the top of your car or on your back, which is why they included an air-mesh back panel and removable padded hip belt for extra-heavy loads.
Mountainsmith Tanack 10L Lumbar Pack
The smallest of the bunch, the Tanack didn't fail to impress, however, with its innovative design and robust carrying options. Is it a fanny pack? Yes, with its removable waist belt. But it's also shoulder bag with its strap and a duffle with two carrying handles, allowing for a variety of real-world situations. Two side cinch sacks are perfect for secure bottle storage, while the inside padded three-compartment design keeps a small amount of stuff tidy and bump-resistant. No worries when the weather turns: a removable rain shield pulls out over the beefy Cordura fabric to keep your stuff dry.
HoldFast Roamographer
If James Bond were also a photographer (and with all those women, he must have been a father), he'd be carrying Roamographer over his shoulder by its shearling strap. The rich bison leather, hand-sewn in Oklahoma, is supple and aromatic, making it a true luxury weekender. Inside, a removable camera insert creates five compartments (three large, two small) that can organize bottles, binkies, and more. An internal laptop sleeve can accommodate 15-inch screens or your trusty iPad.