The Best Cyber Monday Deals on Toys, Tech, and Baby Gear
Including deep discounts on everything from electronics, video game systems, and baby carriers, to outdoor gear and clothes.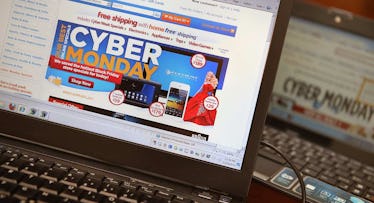 Black Friday is no longer the big day for savings. While it still offers some serious sales, the Friday after Thanksgiving has been bested by Cyber Monday. And that translates to bigger deals. Not only have a lot of retailers turned Black Friday into an extended (often weeklong) affair, but according to the numbers, Cyber Monday's actually become the bigger sale day recently From deep discounts on electronics, video game consoles and baby carriers to sales on outdoor gear, kids clothes, and Lego playsets, here's the best Cyber Monday deals.
RELATED: Tools and Tricks to Help You Find the Best Black Friday Prices
1. Toys 'R' Us has already unveiled their "Cyber Week" deals — the biggest being a "buy two action figures and get a third for free" sale. The discount includes toys from all the heavy hitters, including Toy Story, Minecraft, Teenage Mutant Ninja Turtles, Star Wars, DC, WWE, and Marvel.
2. A huge number of LEGO sets will be 30- to 50-percent off both on the LEGO site and at major retailers including Target and Toys 'R' Us. Again, expect some biggies from Star Wars, The LEGO Ninjago Movie, LEGO Friends, Marvel Super Heroes, DC Super Hero Girls, and The LEGO Batman Movie.
3. The multitool experts at Leatherman are knocking 50-percent off a handful of popular models, including the Signal and the Wave survival knives. If you spend $300, you'll also get a $50 gift card to the site.
4. Google Home will be on sale for $79 (regularly $129) from Black Friday thru Cyber Monday on Google, and at most retailers including Best Buy.
5. Walmart is rolling out the new Roku 4K Streaming Stick ⏤ which allows you to watch HBO, Netflix, Hulu, YouTube, and more TV in HDR ⏤ for just $48. That's $21 off the original price.
6. Of course, Amazon is slashing the price on a bunch of their tech gear, including the Echo Plus ($120), the Kindle Paperwhite ($89), and the new Fire 7 Tablet ($30). The sale officially starts on Black Friday, but you can expect one-time deals on Cyber Monday as well.
7. Dell is selling a killer 4K combo that makes immersing yourself (and your kid) in glorious high-resolution Daniel Tiger easy. Their offer combines a 4K, 3D Blu-ray player and an LG 65-inch OLED 4K HDR Smart TV for $2700. The original sale price was a whopping $4,799.
8. Save big on a Surface bundle from Microsoft, complete with the Pro i5 (256GB, 8GB RAM model) and Black Type cover for $899 (usually $1,128). The combo also includes a free three-month trial of Adobe Creative Cloud Photography and 1TB of cloud storage.
9. Purveyor of rugged smartphone cases for people who do adventurous outdoor things, LifeProof, are taking 25 percent off all of their iPhone (excluding iPhone X) and Samsung phone cases.
10. Similarly, Otterbox will also take 25-percent off of their smartphone and tablet cases. Not only that, but they're offering free cooler accessories (up to $70 in value) if you buy one of their new ultra-tough coolers that keeps beer and bottles cold for up to 48 hours.
11. Mifold, the grab-and-go car booster seat, is having a sale through two different retailers. Amazon's 6-hour lightning deal will take 20-percent off a single seat ($31). At Buy Buy Baby, you can pick up a three-pack at 20-percent off and score free shipping.
12. Origaudio's Rock-It is a gadget that turns any hollow device (like a plastic cup or a trash can) into a speaker. It's cool, and also half off on Monday, along with the rest of their inventory of power banks, backpacks, headphones, and traditional speakers.
13. The Xbox One S is being sold at its lowest price to date: $189. Microsoft is also slashing the prices of their official headphones and their exclusives gaming titles like Forza Motorsport 7, Gears of War 4, and Halo Wars 2, all of which are $20 off their current price. You can also pick up a 500GB edition of the One S console, plus three months of Xbox Live Gold and three months of Xbox Game Pass for $229 total.
14. The all-new PlayStation Pro 1TB edition, which runs select games at 4K resolution, will be $50 off at Gamestop for $349. If you don't know what 4K is, you can also pick up the regular PS4 Slim 1TB edition for $0 off at $199.
PlayStation Pro 1TB edition
PS4 Slim 1TB edition
15. Nintendo's newest console, the Switch, was a hot seller last year. This year is no different. Gamestop is offering a few bundle deals on the home-to-portable console with either the gray or neon joy-con controllers. It comes with either Super Mario Odyssey or The Legend of Zelda all for $359.
16. A slew of the year's best games will be marked down on Amazon, including Nintendo's Legend of Zelda: Breath of the Wild Explorer's Edition ($60), Playstation's Horizon Zero Dawn ($20), South Park: The Fractured but Whole ($30 for Xbox and PS4), and Destiny 2 ($30 for Xbox and PS4).
Legend of Zelda: Breath of the Wild Explorer's Edition
Horizon Zero Dawn
South Park: The Fractured but Whole
Destiny 2
17. Target is again running a Cyber Monday deal where everything sitewide is marked down 15-percent off. That includes strollers, baby seats, cribs — everything you need for an infant or teenager. It ends December 2, and if you're a Target Red Card holder, your discount is even bigger ⏤ 20 percent.
18. Clothing retailers are typically the kings of Cyber Monday sales with sitewide discounts. H&M is expecting to sell all clothes at 30-percent off. JC Penny will range from 25- to 60-percent off on women's and men's apparel. Nordstrom is rolling out 20-percent off select items, while Old Navy is going big: 50-percent off of their entire site.
19. Through certified retailers, eBay will be jumping on Cyber Monday deals, and offering the Ninja Coffee Bar for only $100 — it's regularly $210. The Coffee Bar can make 2-14 ounces of coffee in seconds by using thermal flavor extraction to reach the full taste of your java. It can also grind up your beans and it comes with a coffee recipe book and two travel mugs.
20. Fizzics' micro-foam tech draft beer system turns any bottled or canned beer into a fresh tasting draft brew. On Monday, the company is selling the home tap device for $114.
21. Drop the code "BLACKFRIDAY" at Baby K'tan (yes, it will still work on Monday) and score 20-percent off their full line of baby carriers ⏤ including the Active and the Breeze ⏤ swaddle blankets, and diaper bags.
22. Soapsox, the plush toy for kids that doubles as a bath sponge, is having a big two-for-one sale. Choose any two animals like a crocodile or a pig, or Disney characters like Mickey and Minnie Mouse, for only $12. The site will also have a discount on Bath Bundle gift sets for $8.
This article was originally published on