The Amazing Youth Poet Laureate Amanda Gorman Has an Equally Amazing Kids' Book
Want your kid to grow-up to be the Youth Poet Laureate? Here's Gorman's forthcoming new book.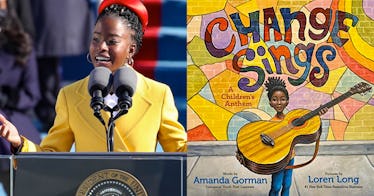 Getty
At 16-years-old, Amanda Gorman became the first Youth Poet Laureate of the United States of America. At 22-years-old, she read a powerful poem during the Inauguration of President Joe Biden and Vice President Kamala Harris. For parents watching with their children, the words of a young poet daring us to be better were affecting. Gorman challenged all of us to reflect on our lives with the words "if only we're brave enough to be it." Saying she has a way with words would be an understatement, but it's worth noting that if you liked what you heard from Gorman, she has a children's book coming out later this year.
In September 21, 2021, Amanda Gorman's Change Sings: A Children's Anthem. Described as a "lyrical" children's book, it will have illustrations from Loren Long who did the illustrations for President Obama's Of Thee I Sing: A Letter to My Daughters. If you're looking for a new book that can get your kid fired-up about socially-minded poems and verses, Gorman's Change Sings is clearly going to be amazing.
Gorman's love of poetry started young when a teacher read aloud part of Ray Bradbury's Dandelion Wine. According to the LA Times, Gorman doesn't remember what aspect of this book changed her, but that it "reverberated inside her." In his book Zen and the Art of Writing, Bradbury recommended that everyone start their morning off by reading poetry, a notion that feels particularly correct right now in light of Gorman's powerful poem at the inauguration.
You can pre-order Change Sings now.