The Best Cooperative Video Games for Kids and Adults
They're the kind of games that you buy a console for.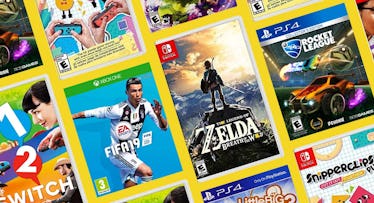 There will always be a place for classic video games. Arcade machines, Nintendo 64, and Atari will never be boring, but even the biggest retro gaming fans have to admit that there's a lot more to do in today's more sophisticated games. And luckily for parents, there are a lot of family video games that are cooperative, multiplayer titles. The best co-op games don't pit you against each other, they unite you in pursuit of a common goal.
RELATED: The Best Video Games for Kids Under the Age of 10
We looked across consoles to find the best cooperative video games to play with your kids. Our picks are family-friendly, come with great graphics, and, above all, include fun multiplayer modes. And hey, gaming is a sport now, so there's an outside shot that your second player might become a next-generation athlete.
Consoles: PlayStation 4, Xbox One
Gameplay: The third in the series of action role-playing games features hack-and-slash combat, which sounds worse than it is (the game is rated age 10 and over).
Why It Rocks: Final Fantasy and Disney together is a crazy combination that works beautifully. The sheer number of characters (from Mickey and Goofy to Riku to Ham from Toy Story) means that no matter what your kids are into, they'll find a character they recognize.
Consoles: Nintendo Switch, Wii U
Gameplay: The most ambitious Zelda game yet is also the first open world map for Link to roam. "Breath of the Wild" provides nearly 40 hours of content for players, and there's no "right" way to play, which we think is great for kids. Instead, Nintendo lets players choose between exploring the vast game land or going through the traditional story mode.
Why It Rocks: Your kid will probably just want to ride a horse and climb mountains in the beautiful Switch game, but considering the huge open world, you can explore Zelda together on the couch, switching between those difficult battles and open world moments on horseback.
Consoles: PlayStation 4, Xbox One, OS X, Linux
Gameplay: It's a car soccer. No seriously, you play in a giant area where two teams of multiple cars attempt to put a giant ball into the net. Of course, there are over-the-top car stunts and flips adding more insanity to an already brilliant idea.
Why It Rocks: Rocket League is pretty addictive, spawning a category in eSports. Its easy pickup and play mechanics allow anyone at any level to have some fun.
Consoles: Nintendo Switch, Nintendo 3DS
Gameplay: It's an action puzzle but it's really quirky. You and your kid play as Snip and Clip, who need to cut and paste onto each other, literally, in order to solve imaginative puzzles.
Why It Rocks: The cooperative game was made for team problem-solving, so you're guaranteed more fun if you talk out the game's interesting, physics-based problems — like slamming into each other to create a bathtub to collect water.
Consoles: PlayStation 3 and 4, Xbox 360 and One, Nintendo Switch, Microsoft Windows
Gameplay: The blockbuster soccer game is nothing if not comprehensive, with insanely detailed options in terms of players, teams, leagues, and tournaments to play as. You can play a match quickly or spend hours building and customizing a team: the choice is up to you (and your kid).
Why It Rocks: It's FIFA. Few franchises have built fan bases as devoted as this one, and that's because the gameplay and graphics get better every year. Kids who love soccer will love this game, but with gameplay this great it's not a prerequisite.
Console: Nintendo Switch
Gameplay: Nintendo's latest racer combines the elements of classic racing games like "Wipeout" and "F-Zero" to create a beautiful game that looks like a "Star Wars" podrace but without Jar Jar Binks.
Why It Rocks: Despite the slick graphics, the core of the cooperative game is a traditional racer. And there's nothing better than trash-talking on the couch during a high-speed race.
Consoles: PlayStation 3 and 4, Xbox 360 and One, Nintendo Switch, Wii U
Gameplay: This game follows supervillain Lord Vortech who — wait for it — attempts to take control of every possible universe. That means every Lego hero — Batman, Superman, Marty McFly, Frodo, even Scooby Doo — have to team up and save the Legoverse.
Why It Rocks: It's a mega-crossover and kids will get a huge kick in seeing Superman next to Scooby Doo. The cooperative game also incorporates specific Lego toys to advance certain character stories. That's all you need in your house — more Legos.
Console: Nintendo Switch
Gameplay: Go face-to-face in this battling duel game. You can either have an old-fashioned Western shootout, have a dance-off, or play a tennis match. The point of the game is to outdo your competition and not focus on the screen, which probably gets weird when you play the cow-milking contest.
Why It Rocks: This is weird for Nintendo, but the cooperative game was built around couch co-op so there's no other way to play it. Plus, you wouldn't have a cow-milking competition in real life, would you?
Console: PlayStation 4
Gameplay: This puzzle platform game channels the old-school platform games of "Super Mario." You play Sack Boy, who lives in a tiny world where he jumps over buttons and thimbles. It's endlessly cute and perfect for younger children who are new to gaming.
Why It Rocks: The third game in the groundbreaking series, like the others before it, stresses creativity. Although you play as Sack Boy, you can edit the appearance to extreme detail from wigs, eyes, clothes and tongue color. Plus, like "Super Mario Maker," you can build your own levels and share them online.
Every product on Fatherly is independently selected by our editors, writers, and experts. If you click a link on our site and buy something, we may earn an affiliate commission.