The 7 Most Beautifully Designed Children's Toys, According to Someone Who Actually Knows
These toys are so beautiful you won't want to play with them. But you should.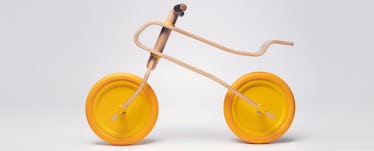 As a father with kids who like stuff and me also liking stuff, I have a lot of stuff. In my childrens' rooms is an embarrassing amount of stuffed animals, a tumult of toys, a menagerie of tiny chairs and knee-high desks. Much of this stuff is, let's face, it aesthetically worthless. Most of it is plastic, which means this aesthetic worthlessness will be around for millennia. Design for children, too often, has been conflated with bright colors, bold shapes, and shoddy construction. But in a new book Design for Children, author Kimberlie Birks showcases more than 450 designs for children from some of the century's greatest visual minds from Phillippe Starck to Piero Lissoni. We recently chatted with Birks about what her deep dive into children's design taught her and asked her to pick her favorite designs from the book.
Do you find children's design has more in common with its contemporary adult designs or with children's design through time? That is, is a toy made in 1950 more similar to a desk made in 1950 or a toy made in 1980?
Children's objects are often a signal of the times, reflecting both the evolution of the design industry and shifts in public perception. Fascinatingly, much of the design history of the twentieth century can be traced through developments in children's furniture, as their smaller scale was ideal for designers seeking to test new materials and processes. From the wood and tubular steel constructions of the Bauhaus in the 1920s, to the plastic pioneers of the 1960s, the remarkable technical, material and aesthetic innovations made in design for children reflected—and often led—the wider design field. As such, children's design can be often seen to have more in common with its contemporary adult designs than with children's designs from other eras.
What elements make a design for children successful? Are they any different than what makes a design for an adult successful?
As anyone who has spent significant time around kids will know, durability, cleanability and safety are essential, but good design for children should also invite an imaginative relationship. Objects that are open-ended and not entirely prescriptive as to how they can or should be used encourage kids to engage with them, exercising their brains and bodies in a variety of ways. Exceptional children's objects always respond to their specific needs, rather than simply mimicking an adult design at a smaller scale. This is why noteworthy creations often come from designers who are themselves parents.
How many of these designs have you actually tested with children?
While we did not conduct field research, the designers definitely did. Many of the objects in the book were created by parents who, dissatisfied by the options available, took matters into their own hands to produce toys and furniture that were tailored to their firsthand experience of children. Objects like the Babysitter by BabyBjörn (1961) and the Tripp Trapp chair (1972) have become classics because their design responds to the specific needs of children so well, while clever toys like SumBlox (2014) grew out of a teacher's desire to help children learn early math skills. It was also nice to see that there are people like Renate Müller, who has been creating beautiful toys for children with physical and mental disabilities for decades.
Tripp Trapp (1972)
Peter Opsvik's Tripp Trapp is a timeless piece of Scandinavian design that has been a favorite of parents since 1972. The chair's genius lies in its adaptability; the seat and footrest height can be adjusted into fourteen positions, allowing children of all ages to sit at the table in comfort while enabling older children to get in and out themselves, with the help of the adaptable footrest.
Free Universal Construction Kit (2012)
Not to be abbreviated in the company of children, the Free Universal Construction Kit uses open-source and 3D printing technology to create a set of nearly 80 connectors and adaptors that allow enterprising kids to join pieces from construction toys as diverse as Lego, Tinkertoys, Bristle Blocks, and Lincoln Logs. This 'meta-mashup system' creatively employs modern technology to circumvent the significant intellectual property restrictions of each toy set in order to encourage radically constructive play.
Zocker (1972)
With a background in aerodynamics, the German industrial design maverick Luigi Colani is best known for his futuristic car designs for the likes of Alfa Romeo, Fiat and BMW. Commissioned to create a child-friendly piece that would function as more than just a scaled-down version of adult furniture, Colani's Zocker is a chair that seamlessly accommodates children sitting forwards or straddling it backwards, with the backrest doubling as a lectern-style desk or table. Lightweight and easy to clean, its eccentric form can be imagined into an animal to ride upon, a car or a cockpit.
Cow, Bambi and Sheep Chairs (2015-17)
A fashion designer by training, Takeshi Sawada brings serious style to his Cow, Bambi and Sheep Chairs. Made by the Copenhagen-based Elements Optimal of faux-fur, oak and walnut, the quality of craftsmanship on these little gems will make them the favorite pet of everyone in the household.
Brum Brum Balance Bike (2009)
The Brum Brum's dramatic cantilevered frame is more than just a killer visual feature: it also serves as an in-built suspension system that makes for a smooth all-terrain ride. Designed for children aged 2-6, the balance bike can be adjusted to three different heights with no tools required. Created by Krišjānis Jermaks, the designer's children chose to name the bike after the sound of their father's motorcycle.
Inflatable Animals (1969)
This range of extraordinary plastic inflatables is the brainchild of Libuše Niklová, one of the Czech Republic's most important designers. Produced in the 1960s and 1970s for the plastics company, Fatra, these bright bouncy characters used cutting edge technology and were intended for children to ride. Still widely collected, Niklova's toys have become a design world favourite
CARtools (2015)
This mod car set recalls the bold palette of vintage comic books. The work of Dutch designer Floris Hovers, each car can be dismantled into a kit of interchangeable parts (or tools) and reassembled into a number of archetypal vehicular forms. Hovers playful and naïve design manages to feel both nostalgic and fresh and could feel equally at home on a child's play table or adult desk.
This article was originally published on