The 12 Best Amazon Alexa Skills to Add to Your Echo or Smart Speaker
Unlock the full potential of your Amazon Alexa device with these skills.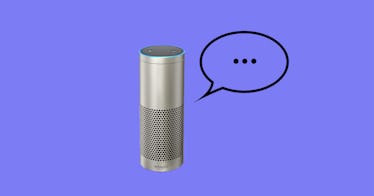 Smart devices that come equipped with Amazon Alexa can do a lot out of the box. They can answer trivia questions, play music, tell you jokes, and, of course, place Amazon orders. But their built-in abilities only scratch the surface of what they can do; through the Alexa portal you can download more than 50,000 additional skills. In other words, Alexa basically a brain waiting to learn new tricks, many of which are extremely useful to have in every day life. But which are worth your time? Here are our 12 favorite Amazon Alexa skills that you'll use again and again
Get Better Weather Reports With Big Sky
Alexa comes with the ability to tell you the weather. But Big Sky is much more useful than the Echo's built-in weather skill. Its hyperlocal, hour-by-hour data is tied to your street address, not just your city name. With better data comes the ability to ask hyper specific questions such as "Will it rain in the next three hours?" You can even pay for a premium version that will let you ask about other locations around the world.
Fall Asleep to Sleep Sounds
There are plenty of sound-making skills available for Alexa, but many of them offer limited options. When you ask Alexa to open Sleep Sounds, you'll be asked which sound you want. Options range from natural sounds like "ocean waves" and "crickets" to artificial sounds like "dishwasher" and "white noise." Some of the options are very specific, like "distant thunderstorm" and "rain on a tent." If you're having trouble deciding, you can also ask for a random sound and Alexa will choose one for you.
Hire Additional Help With TaskRabbit
The IKEA-owned freelance labor marketplace has its own Alexa skill that allows you to ask TaskRabbit for specific kinds of labor (moving, house cleaning, delivery, etc.) at specific times. It's a useful skill to enable if you live in one of the 19 cities served by TaskRabbit.
Stay Fiy With 7-Minute Workouts
This Alexa skill does exactly what it says: leads you through a 7-minute workout that makes up in intensity what it lacks in length. You'll bang out an assortment of exercises, from wall sits and pushups to lunges and planks. It's genuinely useful. Version 2.0 of this skill syncs with the Alexa companion app to provide helpful images that provide clarity on how to do specific exercises so you can be sure that form is on point.
Set Reminders For Yourself With Quick Events
Quick Events is super useful if you or your family depend on a Google calendar to stay organized. It's basically a verbal version of the "Quick Add" feature that comes with most digital calendars. All you have to do is tell Alexa the name of the event and when it will be and the skill automatically adds it to your Google Calendar. It will even ask follow-up questions if you leave out a necessary detail.
Figure Out What to Do With Your Groceries With Meal Idea
What sets Meal Idea apart from other recipe-finding skills is its focus on meals that use common ingredients. It's not the best place to find a dynamite salmon en croûte recipe, but it can save you a trip to the store by suggesting dishes that use ingredients that are likely to be found in your kitchen already, things like eggs and rice.
Find Your Next Great Go-To Meal With AllRecipes
The massive online recipe site AllRecipes has a more conventional Alexa skill. You can ask it for specific recipes, the recipe of the day and recipes that incorporate specific ingredients. You can also link it to your AllRecipes account to access recipes you've favorited or otherwise saved. But its most important skill might be sending the recipe you choose to your phone so you have a reference to go off of as you go about on your culinary adventures.
Prepare for Emergencies with Ask My Buddy
AskMybuddy.net is a website that allows you to register a list of emergency contacts that, once defined you can check in with and alert if you need help. The Ask My Buddy Alexa skill pairs the website's functionality with the convenience of Alexa. If your kids come home from school to an empty house, they can tell Alexa to let you know that they made it. If something does happen when you're not around they can also use it to let you know quickly, no phone required.
Get Up-to-the-Minute Traffic Alerts with My ETA
My ETA lets you specify your home location and custom destinations like work and school online. Then, you can link that account to Alexa and ask how long it will take you to travel between these places given current or, if you specify, likely future traffic conditions. It also comes with built-in support for all nearby airports, so you don't need to worry about adding them before your next flight.
Make Sure Your Kids Brush Their Teeth with Chompers
This skill is designed to ensure your kids are practicing good brushing habits. When you activate the skill it will start telling jokes, riddles, stories, and more to distract your kids while they brush. It lasts for two minutes, so kids don't cut their brushing short. Chompers even keeps track of how many times they brush and celebrates their streaks. It's one of the best-reviewed skills out there, with a 4.6 rating on 88 reviews.
Locate Your Phone in the Couch Cushion with Find My Phone
With minimal setup (a security code text), it's easy to set up Find My Phone. When you activate the skill, it rings your cell phone. That's it. You can add the four numbers it calls from to your contacts and specify that it should ring even if your phone is on vibrate or silent. You'll be thankful you have it the next time your phone slips beneath the couch cushions or gets buried under a pile of magazines.
Pair That Cab with Those Croutons With Wine Guru
Penetrate the opaque world of food-wine pairing and ensure that you are drinking the best wine for your meal with Wine Guru. You can ask Alexa what kind of wine pairs best with the dish you're having or opt for a walk-through option with multiple questions to zero in on the correct choice.