Because Every WFH Dad Needs a Tesla Charging Station For Your Phone
Lo and behold, now everyone knows you drive a Tesla.
by Sal Vaglica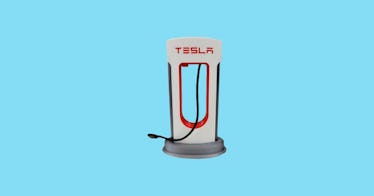 How do you let anyone on your Zoom call know that you're a Tesla owner without actually announcing that you're a Tesla owner? Simple. Just showcase (subtly, of course) a replica of Tesla's Supercharger that's actually a desktop charging station for your phone.
Disguised to look like a mini Tesla charging station, this dock basically holds the cable that charges your smartphone. Using it is a simple and silent act you can casually perform during a video call to convey your moral (and fiscal) superiority — for less than $25.
Once assembled around your thunderbolt cable, yank the business end of that cord down and slip it into your phone. When you're done charging, plug the cable's end into the port — exactly as you'd do when juicing up your Tesla at a charging station. The charger fits USB-C and lightning cables and works on both androids and iPhones.
Every product on Fatherly is independently selected by our editors, writers, and experts. If you click a link on our site and buy something, we may earn an affiliate commission.
This article was originally published on