Tesla Cybertruck Hot Wheels: How it Went From Stage to Scale Model
Mattel's Head of Product Design discusses the creation of the Toy Fair darling and what Tesla thought of that cheeky broken window sticker.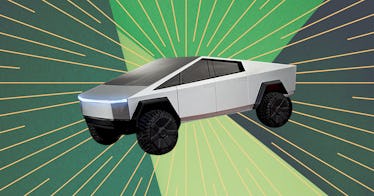 This past December, Tesla unveiled the Cybertruck, the company's take for the pickup truck of the future. Utterly unique and aggressively geometric (it honestly wouldn't surprise us if designers used a bunch of Tangrams when conceptualizing it), the truck is a straight-out-of-Sci-Fi creation that features the same metal as SpaceX's spaceship prototypes and such futuristic touches as a telescopic truck bed with retractable tonneau cover. Even more impressive, the concept goes from 0-60 mph in just 2.9 seconds and can travel more than 500 miles on a single charge. Basically, it looks like a toy car wrought to life, which is why the design team at Hot Wheels quickly went to work on a scaled-down version.
At Toy Fair 2020 Hot Wheels and Mattel released two R/C versions of Elon Musk's truck —1:10 hobby-grade scale model for $400 and a 1:64 scale model for $20. The $400 version of the sometime-in-the-future-vehicle, made for collectors, has functioning tail- and headlights, all-wheel-drive, full suspension, and that same rocking body geometry. It has two driving modes, "Chill" and "Sport"; in the latter mode, the truck reaches a top speed of 25mph. There's also a cheeky broken window vinyl decal (removable) that nods at the Cybertruck debut when Tesla's Chief Designer accidentally broke the glass when trying to show the window's strength. The 1:64 RC model is three inches long, has two driving speeds, two-wheel drive, fewer bells and whistles, and a much smaller price tag. Unlike the real Cybertruck, both models are up for pre-order now.
At the Mattel booth, we were given a peek of a not-quite-ready-for-prime-time-but-still-very-cool$400 Cybertruck in action from Mattel's Director of Product Design Gerry Cody. Cody has been the brains behind some of the Hot Wheels brand's most iconic creations and was the lead on this project as well.
The Cybertruck was impressive. The taillights blinked. The suspension bounced. And the truck whipped around the show room floor at speed. The final version will feature the Cybertruck's manually operated tonneau, a removable exterior to get a full glimpse of the real model's detailed interior, and the telescopic bed/loading ramp.
Fatherly spoke briefly to Cody about how the Hot Wheels R/C Cybertruck went from Tesla stage to scale model in just 90 days.
How did the Cybertruck process get started?
Well, the collaboration with Tesla started 10 years ago with our basics line. We first had the roadster — the one that's now on the dash of the Tesla Roadster that's up in orbit [editor's note: Elon Musk launched his personal Tesla Roadster into space in 2018 and the Hot Wheels version is attached to its dash] — all the way through the X, the S, the Model 3. So we've had a nice partnership for ten years.
The CyberTruck was unveiled November 21, 2019 and on the 22nd we went to work. We started looking at internet references and screen grabs and we mocked up our best stab for a prototype.
You started work on this the day after it debuted. What made you feel that this was something that had to be raced into production?
Well, if you know Tesla, you know that Tesla is a forward-thinking company that's always pushing the envelope that's always pushing and evolving at a rapid rate. So, we have our eyes on Tesla as we do for all our other manufacturers. And when this thing came out, it was an Internet sensation instantly. The unveiling was awesome. Then there were the features. The specs the truck offered were incredible. So, for us, it was a great point to get something going.
Tesla is based in Hawthorne, California, so they're our neighbors. We benefited from the proximity. We went down to the office and showed them our Cybertruck prototype and we all had some fun. We showed them some R/Cs and toys and just started playing. They were excited. We were excited. There was something there.
I would imagine that Musk is a fan of Hot Wheels. He strikes me as a hobbyist or someone who would have an affinity for the brand.
We know for sure that he has a sense of humor. Just to put our Roadster on the dash of his shows that.
Once you guys got the go-ahead, you were able to get the truck's features into scale-form.
We were. The 1:10th scale Cybertruck is hobby-grade. It has a top speed of 25 mph, full-suspension, working taillights and headlights. The final version will have a full interior with tinted windows so you can see inside the vehicle and see the bench seats, the dash, the steering wheel. It will have a manually operated tonneau cover that will open and close, revealing the truck bed, and there will be a telescopic tailgate that will open up into that loading ramp feature.
Whose idea was to put the broken windows on the car?
When we started building the prototypes, my team and I started asking: what are the features, what are the specs, and we thought about the glass. We weren't sure what Tesla's sensitivity was going to be regarding that moment. But the day after the press conference where Elon broke the window, they released a bullet proof t-shirt which had the smashed glass reference. So that's awesome. We said "How about a reusable vinyl sticker?" And they were into it. It's not full-time, you users can take it on and off, but it's something that's just a great little detail.
It really is. And soon it will be out in the wild.
It will be. This is now the fastest item for Mattel, from the initial pitch to pre-sale. We did it in 90 days. And pre-orders sold out in five hours. It was so nice to see that kind of response.
Maybe we'll see it floating around when Elon launches the CyberTruck into space.
You never know.
This article was originally published on