Is Camping in a Tree Tent With a Toddler an Insane Idea? We Found Out.
We took our 4-year-old and a new hanging Tentstile Connect out for the weekend.
by Jeff Foss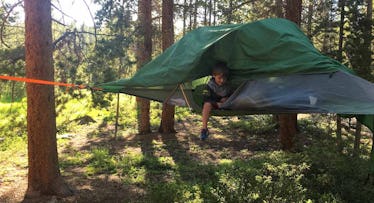 For campers eager to commune with nature in enhanced ways, the latest niche item is the tree tent — stretchy, lightweight sleeping pods that hang in the air like hammocks on acid. Anchored by heavy-duty ratchet straps, these futuristic shelters create a suspended sleeping area high above the cold, hard earth.
I'd wanted a tree tent ever since spotting one on Instagram a couple years back. The question was how to justify the purchase. Before kids, my wife and I were ambitious backpackers, regularly going on multi-day trips. These days we have a 4-year-old and a 1-year-old, so we mostly car camp in a barn-sized tent that fits a Pack 'n Play. Did we really need an expensive flying bivouac?
Of course, we did.
The tree tent I ended up buying was the Tentsile Connect ($450), a basic model that sleeps two adults or one adult and two decidedly oversized children (the capacity is a whopping 880 pounds). The following weekend I took it out for a test hang near Grand Lake, Colorado, with my son.
It was a wholly unique experience. For starters, there's the setup. To pitch a traditional tent, you need a semi-flat surface; to pitch a tree tent, you need a triangle of mature trees (boulders and heavy vehicles work too) around which to anchor the straps.
Eventually, I located three towering lodgepoles spaced about 25 feet apart. I looped the straps (rated at 2.5 tons) around the trunks and started cranking. Our tent began to levitate — it looked like a cross between a UFO and a fidget spinner. I was stoked. My son was over the moon. Our dog, presumably, was bummed: I'd left her at home due to the nature of camping in a tree.
In my excitement, however, I strung the tent too high; it was going to be tough for my kid to freely enter and exit. Lowering it would have been a pain, especially after all the micro-adjusting it took to dial in the nylon-polyester floor. (It's important to string these things extra tight to create a supportive sleeping surface.) I was also running out of daylight, so I gathered up our bags and boosted him inside. Then I helped him climb down. Then up. Then down again. Then back up. He was like a puppy who couldn't decide whether he wanted to stay in or go out. This may have been a terrible idea.
I eventually corralled him and climbed in myself. There's plenty of room inside the Connect; we could have easily fit our bags. However, since every additional pound makes the floor sag just a tiny bit more, I stashed them under the tent.
The roof material is a tear-resistant mesh, and I was immediately pumped on the airflow. Plus, Tentsile had somehow managed to squeeze four doors onto what is essentially a two-person tent (two in front, and one on each side). Overall, it felt secure and even a little trippy.
We ate dinner and got ready for bed. At some point, I realized that dressing, undressing, and pretty much everything except the physical act of sleeping would be performed outside the tent. Why? Despite the high tension, these tents respond to movement with a rhythmic bounce. This will be great for falling asleep, I thought, but it sucks for shoehorning a kid into PJs.
Lucky for me, the little man passed out right away. I envisioned a night of him struggling to sleep as we swayed in the breeze. My fears were allayed. And then it was my turn. I'm a firm mattress type of guy, and even with the ratchet straps cranked extra tight, it took some tossing and turning to get comfortable. (I eventually stuffed some clothes under my lower back). On the plus side, we had an amazing breeze flowing through our tent all night, and we didn't have to deal with ground moisture or critters.
Final verdict? I'm digging my tree tent. Yes, it's a little impractical for this phase of our lives, and yes, it kind of makes me feel like hanging bear bait. However, all my kid wants to do now is go camping in the "spaceship," and every time we go out, he becomes more of an outdoorsman. Which, honestly, is the bigger goal. Moreover, if my wife and I can get away this fall for a long weekend, it opens the door to a ton of new campsite options. My recommendation is to add a tree tent to your list of nonessential-yet-badass camping gear that might be worth purchasing (provided you already have a traditional tent).