5 Summer Blazers & Sport Coats For Boys That Look (and Stay) Cool
Five breathable options ideal for summer events or kids who just want to look stylish.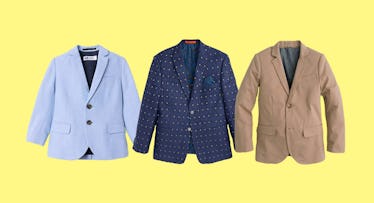 Of all the kids shopping I thought I'd have to do as a parent, finding my son a high-quality, stylish but breathable blazer to wear during summer vacation was not high on the list. And yet, a few months ago my older son Tony discovered an old Alex Mill Boys corduroy blazer in the bottom of his drawer and took to it with gusto. He wears that thing every day, all day and — when we let him — at night too. It's stylish as hell but also very warm. Since it is 90 degrees out these days, I need to find my kid a summer alternative. This all, of course, is very unlikely because I eschew blazers and, in general, shirts. But the kid has the sartorial sense of Gay Talese and since there's no such thing as menswear blogs for kids — thank god — I had to find my own.
As my quest to find him a breathable, well-fitting blazer might help other parents out there searching for a dressy jacket that stays (and looks) cool, here are five excellent options to seek out.
Cotton Blazer from H&M
The challenge with suiting up your kid — especially during the summer — is that he'll look like a little Preston or Jefferson, on break from the yacht club. So best to avoid brass buttons and seersucker. This baby blue blazer, though, nails it. It's breathable 100 percent cotton. It's lined. It's slim-fitting. There's a nice touch of texture, thanks to the Oxford weave. And it's only $35.
Maxwell Charles Cotton Blazer
A pretty straight-forward budget option from one of those brands that only exists on Amazon. Nevertheless, at $40 and made of a cotton blend with a silky hand, this durable blazer holds up to multiple washes without fraying while the navy hides all manner of stains.
Boys Comfort Jacket by Uniqlo
Sometimes I get self-conscious that my kids' outfits are nearly 100 percent from Uniqlo. Then I realize mine are too. And then I think to myself you know what? Their stuff is affordable and stylish and it's fun to buy. Case in point? This new blazer, given the very Uniqlo-ian name of Comfort Jacket. There are two options for color — navy and gray — but I always go with the gray. There's something extra adorable about a little boy in a gray blazer. Unlike the other blazers here, this one comes in an extra comfy jersey cotton knit. Like most clothing from Uniqlo, this is a poly-cotton blend with DRY technology.
Boy's Ludlow Khaki Suit Jacket from J. Crew
A big step-up, but maybe worth it, is the Ludlow from J. Crew. I used to work at J. Crew and am well familiar with the Ludlow cut, which is slim-fitting with high-arm holes and a tailored look. The best thing though about this blazer is the fabric, the same stretch chino that is used in the adult version.
Tallia Dot Linen Blazer from Tallia Orange
Linen, glorious linen, is breathable and looks great ruffled, which is most common state of kid's clothing. This handsome two-tone dot linen blazer with notch-lapels is stylish on the outside but check out the lining, a smart 70's inspired floral pattern, repeated in the pocket square too, that's a little loud, a little swaggering but that Tony thinks is the height of worldly sophistication.
Every product on Fatherly is independently selected by our editors, writers, and experts. If you click a link on our site and buy something, we may earn an affiliate commission.
This article was originally published on