5 Style Hacks Every Dad Should Know
A father's time is precious, but it doesn't have to take long to look good.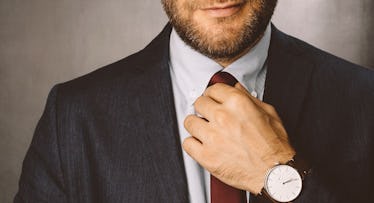 The following was produced in partnership with Just For Men. With Control GX Shampoo, gradually reducing your grey is as easy as, well, washing your hair. Use as you would your regular shampoo until you like what you see. Shampoo in. Rinse out. Move on.
You may vaguely remember the days before having kids — when you invested time in making sure you looked good every Saturday night. When buying new shoes and working on your hairstyle was something you considered a necessity, not a luxury. Lucky for you, you are not the first to walk through the hectic world of being a father. And those who came before were kind enough to leave some smart strategies in their wake about how to look awesome with limited time. With the right tools at your disposal, you can fake like you spent an hour putting yourself together, even when it really took five minutes while changing a diaper.
Hack #1: Make your white sneakers new again.
Nothing will make you look more beaten-down than a grungy pair of kicks. True, the distressed look is a thing right now if you're really in the fashion-know. But that's done in irony, not desperation. Instead, follow these five easy steps to cleaner shoes by tonight.
Mix one-part water, one-part baking soda, and one-part hydrogen peroxide in a jar.
Take an old toothbrush, dip it into the liquid, then scrub your sneakers as you would your teeth: Firmly and thoroughly.
Leave sneakers to dry.
Knock off excess mixture that has dried on the shoe. Wipe shoes with a dry rag.
Voila. Clean white sneakers.
Hack #2: De-wrinkle your pants in the dryer.
The dry cleaner is great, but costs money and when your pants aren't dirty, just crumpled, it seems wasteful to send them off to be professionally pressed. Next time playing with your kids leaves your pants with a severe case of rumples, follow these steps to make them crisp again.
Toss your wrinkled pants into the dryer.
Grab some ice cubes from the freezer.
Throw them in the dryer and turn it on for five minutes.
The ice cubes create steam in the dryer.
Remove and wear.
Hack #3: Use a grey-reducing shampoo.
Along with surprise that you're going prematurely grey comes the uncertainty of how to proceed. Dye jobs like you get at the salon are expensive and time-consuming. Not to mention you have to keep scheduling follow-ups to maintain the look. Or, you could shower. Yes, that's right, just shower. It goes like this:
See grey hairs in the mirror.
Grab a tube of Just for Men Control GX, which gradually reduces grey hair, and head into the shower.
Shampoo your hair with Control GX (make sure to use the product as directed).
Repeat until you like what you see.
Hack #4: Straighten your collar.
Certain aspects of men's dress shirts are open for interpretation. Spread collar or point? Starch or just pressed? Buttons or cuff links? But there is one detail on which we can all agree: Collar stays are your shirt's best friend. The arrow-straight inserts are designed to help your collar stand up properly, giving your shirt a crisp, tailored look. The problem? Due to their relatively small size and lightweight feel, they get lost every time you remove them to have your shirt cleaned. Next time, try this improvisation.
Go to your desk drawer and grab a paper clip.
Gently fold out both sides of the clip to create a flat, narrow S-shape.
Insert paper clip into small holes of the backside of your collar.
Revel in its perfection.
Hack #5: De-fuzz your sweater.
Nothing makes your favorite cashmere sweater look tired and dated like pilled yarn. A natural side effect of time, the fuzzy appearance recalls something your grandfather might wear. Here's how to make old look new again.
Grab your shaving razor.
Place your sweater flat on a board or bed.
Glide the razor lightly over the excess fluff, skimming it from the garment's surface.
Discard fluff.
Now that you look the part, it's time to call the babysitter and take on Saturday night like you used to — but with a bit more class, confidence, and appreciation now you're a dad.