The Best Cars From Netflix's 'Stranger Things'
Jonesin' for Hopper's truck? We got you covered.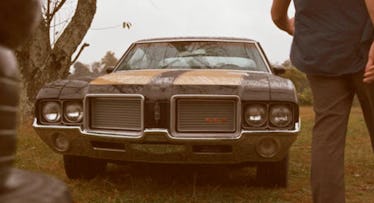 Less than a week after its release, the second season of Stranger Things has proven to be just as much of a cultural phenomenon as the show's debut season. The characters continue to be grounded and lovable. The plot is once again as simple as it is compelling. The references are both subtle and masterful. One of the best parts of Stranger Things is the lengths it goes to recreate the eighties, from the toys to the bitchin' rides constantly popping up on screen.
RELATED: A Ranking of the Mostly Terrible Dads of 'Stranger Things'
During your weekend binging, you probably found yourself wishing you could own any one of the snazzy vehicles of Hawkins but allowed your imagination to be weighed down with such questions as: Are these cars still around? Could I even afford them if they were around? Is there any way I can look as cool as Chief Hopper? After doing some digging, we found five Stranger Things cars you could realistically buy today.
Chief Jim Hopper's 1980 Chevrolet K5 Blazer
Hopper's truck is probably the most iconic car from the show and for good reason. It's got a rough charisma that matches that of the rugged police chief, which makes it a sort of Millennium Falcon for the suburbs of Indiana. The truck, which was produced from 1969-1994, is frustratingly hard to find online. Your best bet is to snag a model from a different year. Even if you do get your hands on one, they're pretty expensive (one in decent condition will likely cost around $27,000) and require a lot of upkeep.
Joyce Byers' 1976 Ford Pinto
The Ford Pinto is the perfect ride for Joyce Byers. She's a struggling single mom in the Midwest who works a meager job as a cashier in a convenience store. Ford's V6-rockin' hatchback was affordable and ever-present in the early '80s, a cast-away from an earlier decade. Much like its owner, the Pinto had a bit of a combustible reputation: Ford recalled more than 200,000 '78 Pintos because some of them were setting ablaze. Also much like its owner: the car is totally rad. Today you can score one for pretty cheap ($5,000-$10,000 range). Keep in mind that they're not the sturdiest car and don't fare too well in rear-end collisions.
Steve Harrington's 1981 BMW 733i
Of course he-of-the-glorious-mop Steve Harrington has a yuppie ride. The actual year of Steve's BMW is a little hard to pin down but it most likely is a 1981 model. And while this car may have been a status symbol in 1983 — and the most expensive car we see onscreen because Steve is a wealthy knucklehead — today it's a surprisingly affordable option for anyone looking for a cool vintage car. It runs about $6,000-$8,000 to buy. Keep in mind that you'll likely have to perform as much upkeep on the car as Steve performs on his hair.
Lonnie Byers' 1972 Oldsmobile 442
Lonnie Byers may be an irredeemably shitty father to Will and Jonathan but that doesn't mean the man doesn't have exceptional taste in cars. His Oldsmobile is an absolute classic; even 45 years later, it's still a ride that is going to turn a lot of heads. The ride is so beloved, new models cost around $35,000. Even then, you are still going to have to put in some time and money to make sure it's running well. It's also not the most family-friendly car around (makes sense, doesn't it?).
Billy Hargove's 1978 Chevrolet Camaro LT
The new mulleted bad boy of Hawkins' Camaro rolls into the parking lot with a growl, introducing his intimidating presence and making him an immediate threat to former bad boy Steve. The car does wonders for creating the character of Billy and eliciting swoons from the local Hawkins girls, it's not really sensible. But, shit, if you can afford one, which starts at $17,000, then go for it. Who wouldn't want one of those growling in the driveway?