The StowCo Is the James Bond of Small, Portable Coolers
It's the secret way to take your cold one on the road.
by Ben Radding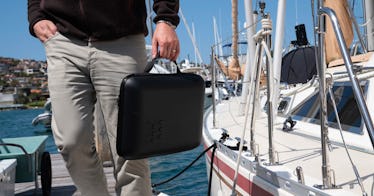 We love YETI coolers because they're massive and indestructible. But sometimes, you want the opposite when you're on the quest for the best cooler. A small cooler. A portable cooler. There's no shortage of innovative coolers out there, but honestly, the StowCo beer and wine cooler is our ideal tool to take drinks on the go—whether it's a trip to the gold course or just watching over the kids in the park.
Why? Well, there are a few ways in which it beats the competition. It's not the size—the StowCo holds about three wine bottles, or six beer bottles, or 10 beer cans. Modest, but certainly enough if you're packing for the whole family.
We're absolutely crazy about the cooler's design. It looks, frankly, like a suitcase or laptop case—it even has a handle on the side. In fact, it can effectively pass for a suitcase, so we're really digging how subtle it is to just tag along with you. And no one's the wiser.
Inside, you'll find each side of the case has closed cell foam insulation. No ice or ice sheets needed, which is a big relief: the last thing we want is to open up our small, subtle cooler just to have water spill everywhere. The insulation also makes everything much, much easier to clean whenever you need to—just wipe the damn thing down on the inside. And it stops your cans and bottles from clinking together over and over again, keeping your secret safe.
And don't worry about the insulation not lasting long. StowCo guarantees at least five hours of cold storage—more than enough time for a couple guys to go through a six-pack—and we've heard it lasting more than six hours cold. Even the zipper on the side is specifically designed to not let heat in from the outside and keep it cool on the inside.
While it's ideally used to just pack a few nips to take on the golf course, don't hesitate to use it as an ad-hoc lunch box. While it's not the coolest, Spiderman-y design your kids will end up taking to school with them, it has more than enough room for a couple sandwiches, veggies, and chips.
So while the StowCo cooler might be the largest or the most technologically gifted option on the market, we just love it for its simplicity, ease-of-use, and just enough tech-savviness to keep your drinks (or lunch) cold for five hours—or more. It's our favorite way to (subtly) take a six-pack to the park, kick back, and let the kids have their fun. After all, we've got ours.
Every product on Fatherly is independently selected by our editors, writers, and experts. If you click a link on our site and buy something, we may earn an affiliate commission.