Video Review: The Stokke Xplory Stroller Doubles As A High Chair
All the pros and cons before you enter your credit card info.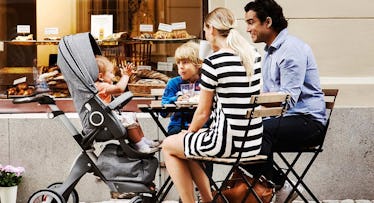 Looking for all of the Best Baby Gear of the Year, from jogging strollers to baby carriers? Click here.
If you're interested in a stroller that doubles as a modern art installation in your foyer, you found it. The Stokke Xplory may be sleek, trendy, and certain to get you noticed in the mall food court, but at $1,229, it doesn't come cheap. What is does comes with, however, is an adjustable seat that online parents are raving about — along with these other features.
RELATED: The Best Strollers For Every Size Family and Budget
Pros:
So yes, the Stokke Xplory has a seat that you can raise and lower which, at least according to one parent on Amazon, comes in handy when eating at restaurants: "I have not needed a highchair since I've purchased this stroller." Others talk about this stroller like it came from DaVinci's workshop, saying it's nothing short of an "engineering marvel."
According to Consumer Reports, the Stokke Xplory gets a thumbs up for excellent maneuverability, an adjustable handle, and one-touch brakes; not to mention you can use the storage basket as a carryall.
Speaking of storage baskets, Parents digs the setup: "The built-on bag (instead of a basket) keeps your supplies from rattling around."
Cons:
That Stokke Xplory storage basket-carryall is eye-catching but, unfortunately, it's not very large. It's also the only place to put anything.
CR adds, "The Xplory is unnecessarily complicated to use; we still have to rely on the user's manual anytime we need to operate it."
And that same Amazon reviewer from above adds, "It's not a stroller you would want to make a quick trip to the supermarket." Although, if you bought this model, the groceries probably come to you.
Specifications:
Weight: 28.11lbs
Capacity Limit: Up to 45 lbs, 42.5″
Wheel type: Solid
Wheel Dimensions: Front, 6.75″, Rear 12″
Suspension: None
Brake: Single-foot parking brake
Carrier adapter: No
One-handed fold: No
This article was originally published on