This Foldable Baby Tub Makes Bath Time a Breeze
The Stokke Flexi Bath lets you wash kids up to 4 years old and collapses down for easy storage.
by Fatherly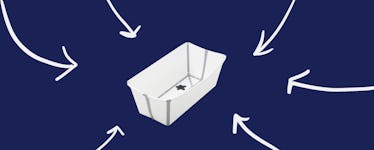 Once upon a time, parents scrubbed their kids in wooden barrels and kitchen sinks. Now, the bath tub rules supreme. And when it comes to baby bath tubs, there are a lot of excellent options out there. The problem is many of them require space in our homes, space that is already cluttered with other baby items. That's why one of our all-time favorite options is the Stokke Flexi Bath. A baby bath tub suitable for infants up to four-year-olds, the tub is sturdy, safe, portable, and, best of all, breaks down into a briefcase-sized square that's simple to hide in a corner, so you'll have even more room for fun baby bath toys.
Made by the Scandinavian brand Stokke, the Flexi Bath is 24 inches long, seven-inches wide, and 13-inches tall. It weighs 3.5 pounds and is made from a BPA-free silicone that is flexible but still quite sturdy. There's grippy rubber on the bottom to helps it stay in place and reinforced to not leak. It can accommodate infants to 4 year olds and, as such, comes with an ergonomic infant support that, once connected, keeps infants comfortable and above water when its suds time.
The big selling point of the Flexi Bath is the fact that it breaks down easily. Thanks to its variety of rubber-reinforced, bendable joints in its sides, the bath tub folds in on itself flat until it resembles a large envelope. This makes it incredibly easy to not only stow in a crowded closet but also bring with travel. And despite its flexion, the tub remains durable.
Parents who regularly use the Flexi Bath have lauded its pack- and portability, yes, saying that it's easy to fold and fit next to the tub after a use and even shove into a suitcase when necessary. Many have also reported that the tub is able to support and prevent slippage when energetic toddlers tend to move around a lot during baths.
As it's a full-sized tub, the Flexi Bath isn't made to be set in a sink. Some parents might not like that. It should be mentioned that a few reviewers said that the flexion of the sides caused some stability issues during baths, but no one reported anything severe.
If you need a full-size baby tub that doesn't take up space and travels easily, we think the Stokke Flexi Bath is an excellent option.
Every product on Fatherly is independently selected by our editors, writers, and experts. If you click a link on our site and buy something, we may earn an affiliate commission.
This article was originally published on