The New 'Star Wars' Lightsaber Is the Most Realistic One Ever Released
by Donna Freydkin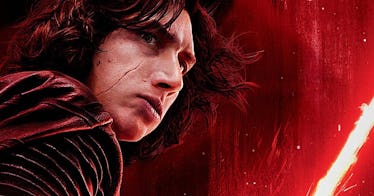 Credit: Lucasfilm
It's been a hell of a time for Star Wars fans. There's the release of the very fine Star Wars: Rise of Skywalker Lego sets. Plus, those insanely cool Star Wars watches for men. All leading up to the December release of Star Wars: The Rise of Skywalker. But no proper Star Wars toy drop would be complete without a new lightsaber for those who love their Star Wars characters.
What makes this new Kylo Ren lightsaber, which just launched, stand out? Well, Kylo Ren, as we know, is dealing with some existential conflicts. It's what makes him such a complex, multi-dimensional, hard-to-hate baddie. And hence, so is his lightsaber. It contains crystal activators that split the plasma stream into three channels. Unlike their cheaper brethren, Force FX lightsabers have a real metal hilt, plus they light up and make movie-inspired lightsaber sounds.
What this means is that you get a lightsaber with 80 LEDs and movie-inspired sound effects, rendering this the most realistic Force FX lightsaber ever released. And it looks pretty much exactly like the weapon dear ol' Kylo uses in Star Wars: The Rise of Skywalker.
The coolest thing it can is what's called the tip drag effect: Make it look like you're slicing through something. It's a true collector's item, for the true Star Wars aficionado, and we're sort of guessing it might wind up on some holiday wish lists.
Meanwhile, Star Wars fans ages four and up get their own doper lightsaber.
Here's the cool part. Kids can record their own sounds by pressing the record button and making whatever noise they want. Over and over. Animals noises! Fart sounds! Screams and screeches! Whoops and Yells! This is basically a dream toy for all Star Wars lovers.
Every product on Fatherly is independently selected by our editors, writers, and experts. If you click a link on our site and buy something, we may earn an affiliate commission.
This article was originally published on