Garmin's New 'Star Wars' Watch Pays Awesome Tribute To One Badass Sith Lord
It's worthy of the Death Star.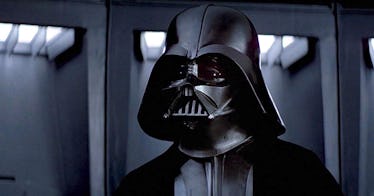 Lucasfilm
At the nexus of science fiction, technology, and exercise sits a brand-new pair of Garmin GPS watches with stunningly detailed yet totally intelligent designs inspired by the Star Wars universe. This is a Star Wars watch you want, whether you're into the Dark Side or not. Garmin calls it the Legacy series, and the line consists of two very covetable models: One inspired by Rey and one by the Chosen One himself, Darth Vader.
This gorgeous smartwatch pays tribute to one of the most badass characters in the entire Star Wars saga. The design is all about her Jedi insignia, and the back features her inspiring words: "Nothing's impossible." Which is pretty damn true, when you're wearing this watch.
The former has a white leather band and a 40-mm case with a silver bezel bearing the Jedi insignia. The latter has a black leather band with Sith-read stitching and a 45-mm case with a dark slate duarsteel bezel bearing details inspired by Vader's TIE fighter cockpit.
The Rey edition has "Nothing's impossible" emblazoned on the back of the case, while the Vader edition has the more ominous but equally character-appropriate "Rule the galaxy." It's rarely-seen touches like these that show you how much though was put into the details of these watches.
Each watch has character-themed faces and goal-animations, and the companion app for your Andorid or iOS phone is similarly branded with details inspired by the respective character. They also both come with an alternate silicone band in black and white, respectively, that will hold up much better to sweat.
The extra band will come in handy because, like all Garmin smartwatches, these are built for exercise. They have a bevy of on-screen strength training, cardio, yoga, and Pilates exercises along with personalized and customizable workouts and training plans. They can also track non-exercise specific health factors like heart rate, sleep quality, menstrual cycles, hydration, energy, and stress. That's a lot of information!
Standard smartwatch features like notifications, the ability to download playlists for phoneless listening, and a contactless payment system also come standard with them, so you'll find yourself staring at your phone screen less often without wondering why the hell it just vibrated in your pocket.
Both the Rey and Vader styles will run you $400. You can order them now with availability expected in 5 to 8 weeks, which some quick calendar math tells us is just in time for the holidays.
Every product on Fatherly is independently selected by our editors, writers, and experts. If you click a link on our site and buy something, we may earn an affiliate commission.
This article was originally published on