Citizen Watches Just Dropped The Most Dope 'Star Wars' Timepieces
They look cool, no matter what galaxy you're in.
by Donna Freydkin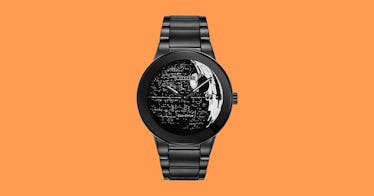 We have new Stars Wars: The Rise of Skywalker Lego sets. In November, weirdly enough, there's a cast iron Star Wars collection on the horizon. But here, today, there's one thing we're coveting: Citizen's limited edition Star Wars watch for men. Which might legit be the best watch for men we've seen, period.
There are watches that track your heart rate. Watches that adjust your workouts based on altitude. Watches that are entirely solar-powered. But this watch? It's badass because it has one single standout feature: It pays tribute to the Death Star. The most iconic of battleships is shown as a green luminous design along the dial and glows in the dark. The steel case is black ion. The dial has edge-to-edge crystal. And the caseback of the watch has illustration of the Death Star itself.
Speaking of death, this watch never dies. Literally. It's powered by light and thus never needs a battery.
Citizen went all out with this release. You can choose between watches dedicated to Boba Fett, Luke Skywalker, Han Solo, and Darth Vader. But in terms of sheer power and cold style, we're totally into the Death Star watch. It's gloriously shadowy, quietly bold, and absolutely stunning. Like the Death Star itself.
Every product on Fatherly is independently selected by our editors, writers, and experts. If you click a link on our site and buy something, we may earn an affiliate commission.
This article was originally published on