This Incredible R2-D2 Droid Is Gonna Sell Out. Fast.
Easily one of the coolest new toys on Toys 'R' Us' 50 Hottest Holiday list.
by Dave Baldwin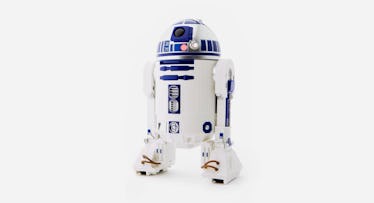 Which toys are parents going to be brawling over this Black Friday? We're starting to get a better idea. Toys 'R' Us is the latest retailer to unveil its list of 50 Hot Holiday Toys and a quick scan reveals one clear stand-out: Sphero's new remote-controlled R2-D2.
RELATED: Awesome 'Star Wars' Porg Toys You Can Buy Right Now
Similar to the company's BB-8 droid, the 7-inch Bluetooth-enabled R2-D2 is either controlled using an iOS or Android app or can be programmed to roam the Millenium Falcon and/or living room on its own. Its movements look damn real, its head spins, and thanks to working LEDs and an integrated speaker (plus access to all the sounds from Episode IV), Artoo acts and beeps like the read droid ⏤ right down to the holographic simulation. It also interacts with both BB-8 and Spero's other new release ⏤ a dark-side BB-9E droid from The Last Jedi ⏤ and all three can be controlled using the same app. Both new droids get one hour of play on a single battery charge.
While Artoo is the showstopper, the Toys 'R' Us list (and accompanying 'Geoffrey's Top 20!') is packed with other cool toys certain to find their way into many a Santa letter. Other highlights include Imaginext's 2-foot-tall DC Super Friends Batbot Xtreme with extendable wings and rocket launchers (!), a soon-to-be-released surprise Hatchimal, and, of course, the impossible-to-pre-order Super Nintendo Classic Edition.
That said, in a year dedicated to Star Wars, it's tough to get past this droid that you're absolutely looking for. It's currently available online for $180.
This article was originally published on