Sphero's Interactive Spider-Man Wants To Tell Your Kids Jokes
Think of it as a story-telling Alexa trapped in a rubber Spider-Man suit.
by James Wohr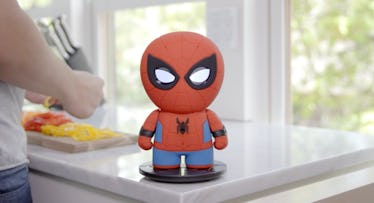 Well, that was fast. No sooner does Sphero unveil its Cars 3 Ultimate Lightning McQueen smartphone-controlled race car last month then the popular robotics toymaker returns with another movie toy: an interactive, joke-telling Spider-Man that wants to hang out with your kids.
RELATED: The Best Superhero Toys & Gear For Kids
Essentially, the third installment in Sphero's Disney trilogy ⏤ remember it brought Star Wars' BB-8 into homes a few years back ⏤ Spidey takes the company in a new direction, away from robotics and toward artificial intelligence. Rather than roll around and performing tricks, it's more of a sedentary storyteller. It stands on the table, answers questions, plays games, and regales your kids with tales of superhero adventures taken from almost 100 comic books.
In fact, according to Chief Software Architect Adam Wilson, it also turns storytime into a choose-your-own-adventure by asking kids questions along the way to help direct the action. It clearly understands their voices and replies accordingly. Think of it as a modified Google Home or Amazon Alexa trapped in a rubber Spider-Man suit. It can also guard the room, if you ask it to. It has an internal motion sensor and will start yelling if anybody walks in. While not a spidey sense per se, it's still a cool feature.
Spider-Man's animated eyes are built-in LCDs, he has a series of signature eye-rolls, and he can sense when he's being picked up and tossed around. His voice is not that of Tom Holland, Tobey Maguire, or any of the previous Hollywood Spidermen, but he's not shy about using it. He reportedly loves to take part in full conversations on topics in which he's well-versed: namely, dating and school.
Finally, the doll syncs via Bluetooth with a smartphone app, which allows kids to choose different modes like "team up," where they can go on missions and make decisions together, or "fight villains," in which the webbed vigilante goes head-to-head with some of his greatest foes. It doesn't, however, sling any web. But Silly String is always an option.
This article was originally published on