SpaceX Astronauts Brought Their Kids' Dinosaur to Outer Space
by Donna Freydkin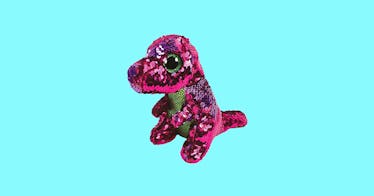 Even hardy, fearless space cowboys appreciate cuddly toys, it turns out. Especially those belonging to their kids.
By now, you've heard about SpaceX's successful first mission, which launched astronauts to the International Space Station. NASA crew members Bob Behnken and Doug Hurley left the SpaceX Dragon capsule and entered the International Space Station, after launching Saturday from Florida's Kennedy Space Center, and will stay on board for anywhere from one to three months.
What you might not know is that the two dads brought with them a sequined stuffy familiar to just about every parent on this planet: a dinosaur. But not just any dinosaur. This one, from Ty (the brand that brought us Beanie Babies) is the glitzy Tremor dinosaur. The brand introduced it back in 2018 as part of its Flippables line, all of which have color-changing sequins. This particular Apatosaurus is sold out just about everywhere except on eBay, but we did some digging and found a very similar one.
The dino almost upstaged Behnken while he was broadcasting from space.
"We both have two boys who are super-interested in dinosaurs," said Behnken. "We collected up all the dinosaurs between our two houses and 'Tremor,' the Apatosaurus, got the vote from the boys to make the trip into space today with us."
So no, your kid probably won't get to colonize Mars, which is the mission of SpaceX. But at least this dinosaur is far more accessible. And affordable.
Every product on Fatherly is independently selected by our editors, writers, and experts. If you click a link on our site and buy something, we may earn an affiliate commission.
This article was originally published on