This Showerhead Gives Me the Steam Room I've Always Wanted
And it saves you money on your water bill.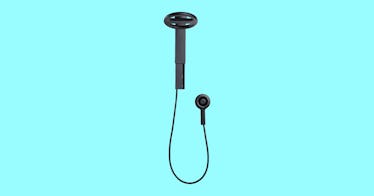 Showers aren't a luxury. They're a means to an end: Getting clean as quick as possible, especially with young kids up your ass and banging on the door. In and out. One and done. But suppose you can upgrade your shower, and turn it into a destination. A man shower-cave, if you will. Enter the Nebia 2.0 spa shower, which also happens to be a top-notch water saving shower head.
The Nebia 2.0 isn't your typical showerhead. It's actually two showerheads — both of which are amazing in their own right — in one svelte package. Leaving you room for accessories, like shower beer holders.
First, you get the overhead showerhead, spraying your head with warm, misty water. It shoots water three times faster than the original Nebia showerhead — plus it gives you twice the coverage of a normal shower. In other words, the overhead showerhead can cover your whole body without you having to twist, turn, and drop the soap. Imagine a cashmere full-body wrap, only made up of warm water. And that's the Nebia shower.
But the overhead's features don't end there. This showerhead is height-adjustable, able to glide up to 25 inches up and down. So no matter how tall (or short) you are, you'll get the full brunt of the spray. If you don't want a full blast, the showerhead can be angled 45 degrees, allowing your head to stay dry. No showercap necessary… if that's your kind of thing.
The second showerhead you get is set at about chest level. It's called the "magic wand," and it's a hand showerhead that can be taken out of its stand and sprayed where the sun don't shine. Or anywhere else, really. We don't mean to limit you. We're actually big fans of just getting a fresh blast as the magic wants sits in its stand. Talk about a total clean.
The coup de grace: efficiency. The showerheads are optimized to give you the most mist for your money without wasting a drop of water. They're so confident in your saving gas and water that there's a calculator on the site for how much you could save, depending on your area. As New Yorkers, we apparently could save around $226. That's a spa day in itself.
Not only do you get both showerheads, you get to choose their color to fit your bathroom aesthetic. Choose from silver or black (honestly, those are pretty much the two reasonable options for bathroom colors) and start treating your shower like a spa. You've worked hard. You deserve it.
Every product on Fatherly is independently selected by our editors, writers, and experts. If you click a link on our site and buy something, we may earn an affiliate commission.
This article was originally published on