The Robotic Dog of Your Childhood Fantasies Is Finally Here
Sony has created a digital canine that puts all others in the doghouse
by Jon Gugala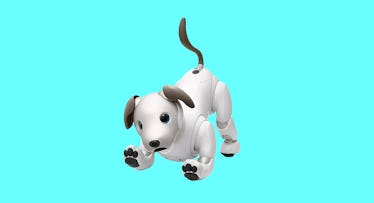 We've written about robot dogs and toy robots many, many times, but we've never seen anything like Sony's aibo robot dog. The next-gen digi-dog redefines the category, and while it carries an (ahem) hefty price tag, it backs it up with robust performance in a sleek package.
While we can laud its innovations in hardware, what sets aibo apart is its AI-powered software. aibo is raised by your son or daughter and bonds with him or her, creating a relationship that, if not real, sure passes the sniff test. Perhaps it's creepy. Maybe it's borderline weird. But whatever. The thing is damn cool. And at least you don't have to walk this dog during a midnight thunderstorm.
First, a bit of history. The first aibo made its debut in 1999 and sold out within 20 minutes of its launch. Back then, only 2,000 units were available and were priced at $2,327.84. A second generation aibo followed in 2001, with each model becoming ever more evolved.
Each aibo is unique, which means that your son or daughter's electronic pet has its own special blend of personality, behavior, and knowledge. However, this isn't static; how it is treated by your child and even how it interacts with other aibos changes it, from the most basic of tricks learned to larger global impact.
The hardware, however, is worth noting in its own right. Myriad joint-like actuators allow the unit to move across 22 different axes for lifelike action. Built-in sensors record inputs to effect aibo's personality, while two OLED lights twinkle in its eyes.
Of course, the robot has a wriggly, real-life movement that is infectiously adorable to your son or daughter. Playful on its own, it also comes with a pink ball for fetch, while additional toys like a bone and dice are available.
Finally, its personality is second only to its connectivity. The "My aibo" app allows for you to check out system settings and add tricks. It even connects to the cloud (a three-year membership is included), which records the unit's experiences. Access it through your home's WiFi or through mobile devices as a hotspot while on the go.
While its tall cost may deter some, the Sony aibo earns its keep through the most advances features and actions of any robot dog on the market. When compared to the upkeep of an actual animal, this robot dog is a steal.
Every product on Fatherly is independently selected by our editors, writers, and experts. If you click a link on our site and buy something, we may earn an affiliate commission.
This article was originally published on