Sobro Is A 'Smart' Coffee Table With A Built-In Fridge
Yep, there's a fridge built in.
by Dave Baldwin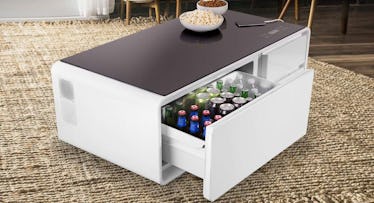 As if a coffee table with a built-in beer fridge didn't already have you at hello, imagine never missing the end of the big game because you were in the kitchen warming up a bottle. Yea, not only does the Sobro 'Smart' Table keep those bottles of milk cold (next to your beer, of course), but it also boasts dual integrated 110V power outlets. So assuming you wisely brought the bottle warmer out before kickoff, you're good to go.
RELATED: Things You Need To Brew The Perfect Cup Of Coffee
Okay, so it's probably more ideal for a well-apportioned man cave than your family room — unless you're blessed with a kid who hates opening and closing easily accessible drawers. But the Sobro really is a coffee table with a fridge and not a knock-off brand of hummus from Costco. Made by the same folks who brought your favorite robot pancake maker, it's about 3.5-feet long, holds around 32 bottles of beer depending on the number of milk/juice boxes in the way, and rocks a no-coaster-needed tempered glass top with touch controls. Which also means you don't need an app to set the fridge to 37 degrees.
The multi-color ambient mood lighting on the bottom matches your jellyfish tank and there are 2 additional storage drawers for your non-perishable magazines and remote controls. Cooler still, since it's already powering the fridge, it features both USB charging ports and the aforementioned 110V sockets. Also, Bluetooth speakers so it syncs to your music player or television. In fact, if they hit their stretch goals, they'll throw in a smart TV dongle to make listening to the game on your coffee table even easier.
The Sobro is currently available on Indiegogo in white (although if they raise enough cash, they'll sell it in wood and black too) at a steeply discounted price. As in, $499 now, $1499 later. Consider yourself incentivized. Not only that, but pre-order today and you'll have it by football season. That means you don't have to miss a single TD warming up bottles.
(Available September 2017)