The Snoo Smart Sleeper Bassinet Rocks (Your Baby to Sleep)
Yes, it's pricey, but sleep is valuable.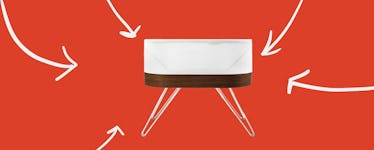 When my wife and I were planning for the arrival of our daughter, we researched and bought all the baby essentials — the stroller, the car seat, the changing table, the onesies — and then drilled down on the most important category of all: baby sleep. In particular, the perfect bassinet for making it happen. We both work in high-stress environments and were worried about fatigue affecting our job performance as well our baby's health. After extensive research, we began our long and rewarding relationship with the SNOO Smart Sleeper.
Being overachievers, we had read all of the books on sleep hygiene, including Dr. Harvey Karp's classic The Happiest Baby on the Block. It seemed like a lot of the advice we read was inconsistent — one book says white noise is great, another says it doesn't work — but many friends swore by Karp's "Five S's" for comforting a baby: swaddling, side holding, shh-ing, swinging, and sucking. When we discovered that there was a motorized baby-rocking bassinet that would implement all of Karp's ideas, we were intrigued. There was just one major catch: a $1,395 price tag, or a $118 monthly rental fee.
Was even the possibility of better sleep worth that much to us? We decided it was.
At first, though, my wife was concerned that the gentle rocking would be too intense for such a little baby. So, we started our daughter in a simple bassinet that we got as a gift. It was a disaster. Our daughter slept fitfully during those first two weeks, waking up far too often with a nasty combination of sorta hungry and very angry. We moved on to the SNOO.
The SNOO was heavier but smaller and more compact than the first bassinet, not to mention better-looking: it looks like a piece of mid-century modern furniture, with a woodgrain-style finish covering the motorized base. It's also designed to be long-lasting, with a motor intended to last through multiple babies (or multiple rentals). The SNOO is also wireless-capable. It has an app that tracks your baby's sleep cycle, producing a simple log of sleep/wake time, and allows you to remotely adjust the rocking speed, in case you don't want to risk waking the baby using the button at the bottom of the SNOO.
That brings us to the heart of what the SNOO actually does (and what justifies its price tag): rocking your baby to sleep. The concept is simple: First, you swaddle your baby in one of the specially designed "five-second swaddles" that come with the SNOO, then connect the swaddle to two little posts on the side to lock them in place, and set the sleeping surface to move back and forth. The range of the rocking is very narrow. Even when it's on its fourth and highest speed setting and appears to be intensely rocking the baby, it's actually not moving them much. Meanwhile, three different types of white noise (they all sound like variations on a soft rain or ocean waves to me) are piped in, and vary in intensity whenever your baby starts crying too much.
So the big question here, the $1,395 question, is whether the SNOO works. And my answer, based on sleeping next to this thing every single night for fifty or so days, is that it does. Our daughter sleeps soundly. She's fixed in place and secure in the swaddle. Over time, her sleep and feeding patterns have become more regular, which is what the SNOO promises to assist with.
And my wife's fears about the SNOO have proven unfounded. Our daughter isn't suffocating in there, nor is she being shaken roughly. She isn't too drowsy, and she doesn't sleep past when she wants to eat. In fact, the SNOO does little when she wants to rouse us to feed her and change her diaper. She raises a fuss, and we remove her from it and sort her issues. If you're not in the room and your baby is crying, the SNOO will actually text you telling you to come. That's a helpful little feature.
But how much has the SNOO helped? Our good friends had a baby recently and don't have a SNOO, yet their daughter seems to be following a similar good-sleep pattern without the aid of the SNOO. But their daughter also has a gentle temperament, while our baby is quite fussy. It's possible, then, that the SNOO has added value here. And the Happiest Baby staff have been tremendous: when my wife has emailed them questions about positioning our baby to help her pass gas, they responded within minutes with helpful, detailed suggestions.
That said, aside from the price tag, we do have our issues with the SNOO. The legs that come with the SNOO made it too high for us to see our baby from our platform bed, which sits low to the ground. We ended up replacing them with the shorter legs sold on the Happiest Baby website. This helped with visibility (my wife wanted to keep an eye on our daughter at all times), but the SNOO's breathable mesh walls was another barrier: The mesh is thick enough to be almost opaque. It wasn't a concern for me — in fact, I'd prefer not to see our daughter at all times — but for my wife, this has been an inconvenience.
If we were to do it again, with budget more of an issue, would we opt for the SNOO? Probably, but in that case we'd rent it. The SNOO does a good job of keeping our daughter swaddled and stable on her back. And, particularly in a time of social distancing, when visits from relatives have ceased, its rocking function offers almost a "second set of hands."
But even though the Happiest Baby company is working to drive the cost of this item down, donating it to hospitals and working to see if it can be covered by insurance, it's still a heavy financial lift for most families, especially for an item that is only useful until they're six months old (or can completely roll onto their sides, which may happen a bit before that). While it's a luxury, for us it has also served as an investment that has paid dividends for our fussy little one.
Every product on Fatherly is independently selected by our editors, writers, and experts. If you click a link on our site and buy something, we may earn an affiliate commission.
This article was originally published on