This Device Lets You Automatically Open And Close Your Curtains
Open. Close. Open. Close. Open ...
by Dave Baldwin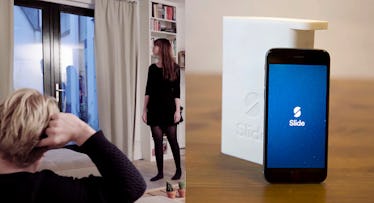 When it comes to life with kids, any time you can save not doing meaningless tasks is time well spent. It's the reason you have a robot to mow your lawn. An alarm clock that brews coffee. And a bed that makes itself. It's also the reason you're going to want these smart curtains that open and close automatically.
RELATED: The Best Tech Gifts for Dad This Father's Day
Okay, so Slide's not actually a curtain itself, but rather a retrofit Wi-Fi-enabled, motorized device that attaches to and controls whatever curtains you currently have hanging on the windows. In fact, it's designed to work on all existing horizontal curtain systems, can control either one or 2 curtains, and installs in minutes using one of 4 different mounting options (rod, rails, etc.) — no handyman skills required.
Once up, Slide syncs to a smartphone app where you can schedule the curtains to open and close at designated times — like right before you deliver an impassioned monologue to your kids about the importance of picking up LEGOs. You can also install a smart button on the wall, control it via Google Home/Amazon Echo using voice commands, or … gasp … still open and close them manually like some kind of 20th-century Luddite.
Couple of other cool features worth noting: You can set Slide to open and close automatically based on when the sun rises and sets, when everybody comes and goes (to save money on your energy bills), or when you're on vacation to fool would-be intruders from breaking in to steal your crazy coffee-making alarm clock.
(Pre-order for August 2017)
This article was originally published on