A $500 Sport Watch That Looks Like a Million Bucks and More Stylish Picks for Men
Our latest picks of clothing and accessories worthy of your attention.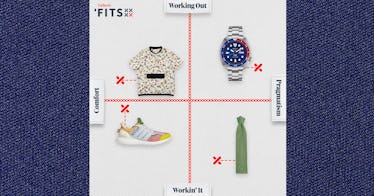 At Fatherly 'Fits, we showcase clothing and accessories that not only look good but go with everything you already own. You own your style, we're just coming up with a handful of choice items and then categorizing them for you — from comfortable to pragmatic, working out to, yeah, workin' it. If you like something, get it. If you don't, move on with your life. Style isn't something to obsess over. It just happens, over time.
Here, we're highlighting a watch that looks a whole lot more premium than the $500 it costs, a pair of Adidas are running shoes in name only, the only tie you need to own right now, and a stylish workout shirt that isn't just for workouts.
The Adidas UltraBoost isn't just a super comfortable running shoe, it's a new classic. After the silhouette launched in 2015, soaring demand made it impossible to purchase a pair on the retail market. A few years later, the UltraBoost has matured into a post-hype staple, a sportier alternative to the Stan Smith. We love them, in part, because of Adi's willingness to release the UltraBoost in new colors, like this 2021 Pride offering, which is available now on StockX for under $200. Pair these with bone-colored or drab olive chinos to create a playful contrast and tension in today's outfit.
What pulls you in at first, no doubt, is the irresistible Pepsi can color blocking, first made famous by the very expensive Rolex GMT. While it comes in at a friendlier price point than the Rolex the Seiko Padi SRPA21 (around $500) is certainly no knockoff. The Japanese watchmaker has a long history of producing high-quality and rugged sport watches. The SRPA21 blends contemporary technology with classic styling. The sleek tortoise-shaped case points directly at Seiko's famous diving watches of the 1970s. When you know, you know.
Fashionable people love the knit tie for about a million reasons: It goes with everything and can play as formal or casual. You can wear it in every season — perfect with a kaki suit in summer or a tweed sport coat and jeans in winter, and if you choose wisely you really only need to own three colors. But the rest of us can love the knit tie because it is an intentional hard left turn away from boxy suits and power ties. Sure, purchasing $205 neckwear from the 184-year old Parisian haberdashery Charvet is a power move all its own, but it's also a declaration that you are a man with a mature sense of style who isn't scared to treat himself.
Athletic endeavors should be challenging, but that doesn't mean there isn't room for a little fun. The Tracksmith Track & Field Pullover is a throwback to 1980s sports memorabilia with a twist: instead of celebrating shot-putters, sprinters, jumpers, and distance runners with trophies, they're drawn into a casual pattern. It's a riot of color, bound by navy trim, that you can wear to workouts, meets, or the coffee shop after a run. While the short sleeve, roomy fit, and kangaroo pocket help keep the vibe casual, the seersucker keeps some of the fabric off the skin, increasing airflow to keep you cool.
Every product on Fatherly is independently selected by our editors, writers, and experts. If you click a link on our site and buy something, we may earn an affiliate commission.