Shittens Are Disposable Gloves For Wiping Your Kid's Butt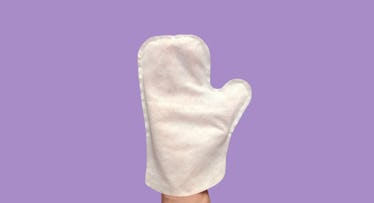 Every mom and dad knows that a big part of parenting involves wiping up crap. It gets everywhere, it can be gross, but it comes with the job. Enter Shittens: A not necessarily new but still important (and hilarious) product designed to help parents wipe their kids' butts without getting poop all over their hands.
RELATED: The Best Diaper Bags For Dads
Not a joke, Shittens are disposable moist wipes shaped like mittens. And while probably not worth using for every baby diaper change, they're clearly a solid option for wiping a potty training toddler. In fact, while a lot of people who've purchased Shittens seem to have done so originally as a gag for a spouse or parent friend, they're quick to point out the product's usefulness. "This was bought as a gag gift," wrote one commenter on Amazon, "But, surprisingly, they are a very good product."
That said, Shittens aren't without their flaws. They cost a whopping $34.30 for 20 gloves, which means parents are paying more than $2 per Shitten ⏤ a pretty steep price to pay to keep your hands clean. And while Shittens may be disposable, they aren't biodegradable or flushable. Still, if you are tired of constantly having your hands smell of poop, Shittens may just be the answer you've been looking for. Although good luck getting said hands on them, they're sold exclusively on Amazon and currently sold out.
This article was originally published on