Fisher Price's New Seinfeld Figures Are Made For Kids But Meant For You
The new collector's set delivers memories from the iconic show and integrates seamlessly with the brand's Little People sets.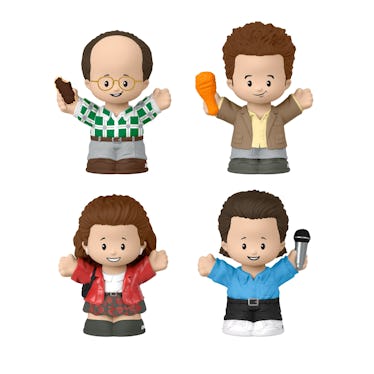 We may receive a portion of sales if you purchase a product through a link in this article.
What's the deal with Seinfeld merchandise? Have you seen this? In the past several years, there's been a glut of junk connected to our ever-growing nostalgia for the world of Jerry, George, Kramer, and Elaine. Not all of this stuff has been good. But a new release from Fisher-Price seems to hit the sweet spot — packed with nostalgia, great for display, and (best of all) can elevate playtime with the kids.
As part of the line of Little People toys, Fisher-Price has released a new set of four figures, which, naturally, depict Jerry, George, Kramer, and Elaine. The packaging shows them in Jerry's apartment, which is littered with deep cuts to various famous episodes. The packaging is so good that you may not want to take these guys out of the plastic and cardboard. However, if you do decide to open your Seinfeld toys and incorporate those toys with your kids — you actually can.
Since all Little People toys are compatible with other Little People toys, if your kid has a Little People school bus, George Costanza can now ride that bus with the rest of your kid's Little People friends. Finally, your kids can have toy adventures about nothing. Spending an afternoon playing with your kids can take on a whole new meaning when their toys are arguing about who is master of their domain, making fun of Jerry's puffy shirt, or trying to get Elaine to expand upon "yada, yada."
Now word yet on whether there will be Newman, Puddy, Bania, or Bizarro Jerry figures in the future, but hopes are high.