This Futuristic Smart Closet Steams Your Clothes and Is $600 Off for Prime Day
Just hang up your clothes and it does the rest.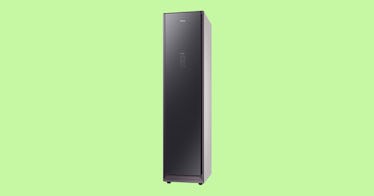 The Samsung AirDresser feels like a big step toward the future that The Jetsons promised us. It's a wardrobe that deodorizes, steams, sanitizes, and dries the clothes you hang in it. It's pricey — living in the future often is — but its price has also dropped by $600 for Amazon Prime Day.
The AirDresser looks like the monolith from 2001: A Space Odyssey: a tall, narrow, black rectangular box that's more nondescript than sleek. Opening the door reveals three fixed "hangers" that can hold any kind of garment, from dresses to blazers to pants. The inside of the door has an additional rod large enough to hold a couple of scarves. The bottom of the machine has two water containers — a refill tank and a drain tank — that need to be filled and emptied manually.
The hangers release air and steam into the compartment, removing wrinkles, dust, and odors. The sanitizing cycle cranks up the heat, penetrating and disinfecting clothes, and the built-in deodorizing filter keeps clothes from getting musty. There's also a compartment above the water tanks where you can put a dryer sheet, reducing static cling and giving your clothes a pleasant scent. The machine also has heat pump drying, which can do things like quickly dry a sopping raincoat or damp delicates fresh out of the washer.
In addition to the control panel, the AirDresser has wi-fi connectivity and a companion app so you can control its settings remotely, including by choosing from among the presets designed to care for different kinds of fabric.
At 2 feet wide and 6 feet tall, the AirDresser is designed to slide into your closet. It uses a standard outlet for power and, because of the aforementioned containers, there's no need for a water hookup.
The list price of the Samsung AirDresser is $1,499, but it's on sale for just $899 for Prime members. That's obviously still a lot of money, but if you find yourself spending a lot of money on dry cleaning and/or a lot of time on caring for your clothing, it's a good value, particularly at its Prime Day price.
For more great deals, check out our Amazon Prime Day deals page.
Every product on Fatherly is independently selected by our editors, writers, and experts. If you click a link on our site and buy something, we may earn an affiliate commission.
This article was originally published on