'Rollors' Is the Greatest Yard Game You've Never Heard Of
The hybrid of bocce ball and horseshoes is hella fun.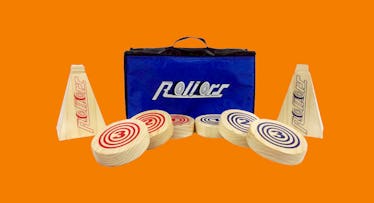 It's been difficult to find a lawn game that I enjoy playing with my kids, aged 5 and 7-years-old. Bocce balls are too easily hurled at siblings. Horseshoes are too heavy for kids to hurl at all, and the finer points of cornhole (namely drinking beer and talking trash) are generally lost on children. But happily, I've found Rollors, an enjoyable lawn game that's essentially a combination of bowling, bocce, and horseshoes. It requires enough skill to be challenging for an adult but is also easy enough for the youngest kids in the family to play.
Very simply, Rollors is comprised of two pyramidical wooden goals that are placed 25 feet apart (or closer for little kids). Players, or teams of players, roll a series of palm-sized wooden disks between the opposing goals. Much as in horseshoes, scoring is determined by the disc that is closest to, or touching, the goal.
The simplicity of Rollors design masks the surprisingly dynamic gameplay. There is skill, sure — it takes a steady hand and just the right amount of muscle to roll the discs on their wide edge to the goal. But, importantly, developing that skill doesn't require too much practice. Plus, there is a huge amount of chance baked into the game. Not only does the terrain you're rolling the disks across change the outcome, but the side of each disk also has a numbered value. So, should your disk land closest to the goal, the point value for the roll is equal to the number showing on the side of the disc. All of these factors mean that adults and children can wind up pretty evenly matched in a typical game.
Another fun aspect of Rollors for younger kids is the fact that it can help them practice number recognition (if they're around Kindergarten age) and simply mathematics (if they're a bit older). Considering it's a non-contact game, it's also safe for siblings to play without fear of them beating the crap out of each other. Plus, being able to play in teams means that a family of four can split into two parent-led teams and practice modeling good sportsmanship.
The game itself has a good-looking wooden construction that makes it feel timeless. The goals and disks feel sturdy and substantial. Even the sound of a disk hitting the triangular goal has a nice resonant tone to it. It's not as substantial as the clang of a horseshoe ringing the post, but it's still a good auditory hit.
Rollors also comes with a feel-good origin story. The inventor and owner of the company, Matt Butler, developed the game between military deployments to Iraq and Afghanistan. As a vet, Butler hired vets in need to produce his initial sets, giving them much-needed financial relief during the Great Recession. And while production has since been automated to reduce costs, Butler is using his experience with Rollors to help veterans launch their own businesses.
So not only does playing Rollors allow my family to get outside for some unique, competitive fun, but we're supporting vets in the process. And you can't beat that ⏤ unless, of course, you roll all three discs right up on the goal.
Every product on Fatherly is independently selected by our editors, writers, and experts. If you click a link on our site and buy something, we may earn an affiliate commission.
This article was originally published on