You Have Exactly One Day To Snag This Insane Unicorn Ride-On Toy
There are only 500 units available as of now. So gallop and grab one.
by Sabrina Rojas Weiss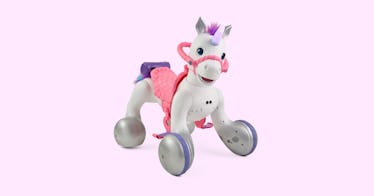 Fair warning before you read the rest of this: If the Josie Play and Ride Unicorn had existed when I was a little girl, I would have sold my soul — or at least my baby sister — for the chance to own one. Just know that my unicorn-loving inner child is going to interject her biases as I describe to you the wonders of this robotic ride-on toy and fulfiller of magical unicorn toy dreams.
Josie is the latest iteration of the Kid Trax Rideamals toys, and it (she? I'm having trouble not treating this like a living thing already) will be available beginning on October 1. Like Scout, a horse version released last year, Josie is a 12-volt electric ride-on that can accommodate kids ages three to seven (up to 70 lbs.), a little older and bigger than your average rolling horse. (There are also unicorn, dinosaur, and tiger Rideamals for toddlers.) You'll see in a minute how this creature appeals to the older set.
First, there's the riding part of this ride-on, which is major. Josie has three modes, a "trot" at 3.5 mph, a "gallop" at 4 mph (which seems faster than you'd think!), and reverse. All of this is while the kids' feet don't reach the ground but rest in stirrups. Riders control everything from Josie's reins, which they use to steer and where the "go" button is. While they roll along, they can also push the blue heart on Josie's shoulder to hear a song for the road.
It's Josie's other features that might have children treating this more like a pet than a toy. She (I'm giving in; she's alive) blinks her eyes, moves her head and ears, and makes over 100 different sounds. Her horn also lights up in different colors, as every unicorn's should. Flip her reins over her head and pull her along in "walk" mode. Or play her music and dance with her — a hinge in her middle allows her to wiggle to the rhythm.
In terms of positive child development, Josie's interactive features also encourage kids to take good care of her. She responds happily to being pet and to having her mane brushed (the brush is included). Attached to her elaborately decorated pink plastic saddle is a purple saddlebag, which holds the brush, a cupcake and some flowers. Feed Josie those flowers and cupcake, and she'll make chomping sounds and a very cute unicorn burp.
As for the adult's part in all this, there is a tiny bit of assembly required. Since Josie is not, in fact, a living creature, she will require about 18 hours plugged in to get a full charge of her battery for the first time. And here's the fine print: There are only 500 Josies available, beginning on October 1, so sign up now to get an alert when you can purchase her, for $399. Magic is rare and comes at a price, after all.
Every product on Fatherly is independently selected by our editors, writers, and experts. If you click a link on our site and buy something, we may earn an affiliate commission.
This article was originally published on