The RhinoWolf Pop-Up Connectable Tent is the Future of Camping
They also have built-in mattresses and sleeping pads.
by Dave Baldwin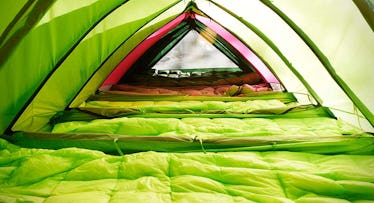 More tents, more fun: That's the idea behind the rabidly popular Pods, Qubes, and to some degree, Under the Weather sports domes. All are modular shelters that connect into a massive fortress of awesome outdoor fun. But here's the thing, they're just tents. Sleeping bags and mattresses are still sold and lugged separately. Now, RhinoWolf, an ingenious Israeli company, is trying to fix that problem.
RELATED: The Best Camping Tents for Families
The RhinoWolf is a modular 3-in-1 solo tent that not only daisy chains to an infinite number of other RhinoWolves (in a wolf… pack, of course), but also rocks an integrated sleeping bag and an inflatable mattress. Billed as "a complete outdoor sleeping system for solo, duo, and group camping," the Wolf was designed to save space and cut down on pack weight; it's made of a lightweight, all-weather 2000 Nylon ripstop and runs about 5.5 pounds. Total. That's with everything ⏤ tent, sleeping bag, and mattress included. Or, if you do a lot of warm-weather backpacking, you can even cut off a pound off by going with the Summer model ⏤ it's made of a high-quality polyester and they've replaced the down in the sleeping bag with a lighter inulin fiber.
And speaking of the sleeping bags (or zip-in blankets, as they say), they come in one size but three weights for different seasons/temps: light (40-degrees), standard (25-degrees), and heavy (14-degrees). And like the tents themselves, they zip together to create a double bed. The air mattresses, meanwhile, inflate in just 10-15 breaths and are "designed in an ergonomic body-mapped V chamber shape to limit air movement and provide full body support." So, there you go. Also, won't slide off of them in the middle of the night, since they're integrated.
Thanks to a one-pole spine, RhinoWolf tent setup is a snap. Simply slide the arching pole through and attach the two rods. Done. From there you can connect it to other tents in what will eventually look like a giant centipede in the woods. If somebody in the family needs some time to themselves (and/or is put in timeout) simply zip up the two doors and the kids get their own rooms back. They can also choose their own color, as the RhinoWolf comes in one of three ⏤ green, black, and pink.
The only real downer is that you can't add it to your camping gear this summer, as it doesn't ship until November. That said, pre-order today on Indiegogo and you will save a ton of cash ⏤ as in half off, with shipping included. The summer model is selling for $169 but will eventually jump to $339. While the 2-, 3-, and 4-season models cost $269, $279, and $329, respectively. Or, if you have a sleeping bag and pad that you can't camp without, not a problem ⏤ the RhinoWolf is also sold as a shell tent for $179. That way you still don't miss out on all of the group tent fun.
This article was originally published on