The Traxxas TRX 4 Sport Kit Is the RC Truck of Our Dreams
It's designed to traverse even the roughest terrain.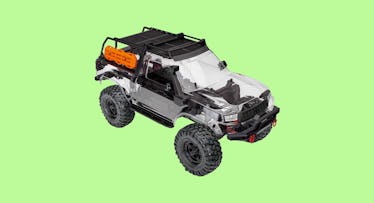 We're suckers for what's the best remote control truck, and you can't go wrong with a Traxxas RC truck. There's just something so damn fulfilling about building it, piece-by-piece, and then cutting it loose to conquer your backyard terrain. Case in point: The TRX-4 Sport, our new favorite from the premium brand of RC trucks.
Just look at this off-road beast. The body of the truck is clear polycarbonate that comes with an array of decals and lenses for lights in both the front and rear of the vehicle. The polycarbonate is designed to be painted, but we think it looks kind of cool as is because it leaves the internal components exposed. There's an expedition rack that helps ruggedize the body. There are traction boards. There are working LED lights. And, because Traxxas is very big on very small details, there's also a fire extinguisher, gas cans, and snorkel!
In terms of components, this RC truck has an electric motor with a single-speed transmission that's low geared to maximize traction and take on the steepest challenges. It has four-wheel drive (obviously) and steel axles that will survive when they inevitably get banged around as it climbs up and over uneven terrain.
Like other Traxxas toys, the TRX-4 Sport comes unassembled with a full-color, heavily detailed instruction manual. You'll need it to put together the rugged truck, which when complete is almost two feet long, ten inches tall, and just over a foot wide. The chassis is a one-and-a-half millimeter rigid steel ladder frame with nylon composite crossmembers, and the tires are made of real rubber and filled with foam inserts.
The electronic components, battery, and charger are available in different combinations and sold separately. This is a real hobbyist's piece, so a one-size-fits-all approach wouldn't make any sense.
So if you're looking for a challenging build-it-yourself vehicle to tackle with the kids, the TRX-4 is worth your time. At nearly $300, it's not a casual purchase, but it's customizability, the quality of its Traxxas truck components, and the dual fun of building and piloting a rugged truck make it worth the money to the right buyer.
Every product on Fatherly is independently selected by our editors, writers, and experts. If you click a link on our site and buy something, we may earn an affiliate commission.
This article was originally published on