Amazon U.S. Toy Sales Show the Robot Takeover May Have Been Exaggerated
According to the report, outdoor and traditional toys remain popular among kids.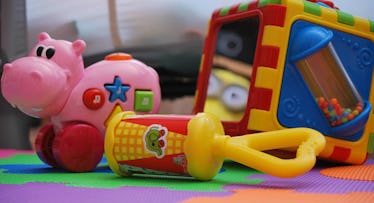 American toy stores' best days may be behind them, but according to a new report, Amazon is already picking up the slack and making a ton of money in the process. One Click Retail's Toys On Amazon: 2017 Review reports that the online retail behemoth made an estimated $4.5 billion, just in U.S. toys sales, last year. But, surprisingly, the techiest way to buy toys for kids has not necessarily translated to massive sales in tech-related toys.
RELATED: The Last-Minute Amazon Prime Day Deals You Should Check Out
That's not to say that robotic toys aren't increasingly popular with kids. They are. According to the report, sales from the robotic category grew 32 percent last year. In fact, Amazon's two best-selling toys in 2017 were Cozmo by Anki and Lego Mindstorms EV3, both of which are intelligent robots built for kids. But despite their bright future, robotic toys are still far from becoming the overlords of American playrooms, earning only a slim $50 million in total estimated sales.
And while many parents might assume that kids only want to play with screens, sales data suggests that outdoor toys and traditional toys have both remained steady performers. In fact, outdoor & sports toys were the fastest-growing toy category of 2017, seeing a whopping 46 percent increase in sales last year. Similarly, traditional toys, like dolls and action figures, continue to be enjoyed by kids everywhere — dolls, for instance, saw a 23 percent growth in sales. Technology might be making its impact in the toy industry but these numbers indicate that classic toys aren't simply going to disappear overnight.
Aside from the war between tech and traditional toys, the report reveals the ungodly amount of money that parents are spending on toys for toddlers. Infant and preschool toys skyrocketed from third place in 2016 sales to become Amazon's largest toy category in 2017, capturing $650 million in estimated sales. This category is expected to grow even more in 2018, as millennials, Amazon's core customer base, increasingly start having kids of their own. Apparently, they haven't heard they could just give their kid an empty pot to bang on with a wooden spoon.