Video Review: The Quinny Yezz Is A Lightweight Stroller You Can Carry Over Your Shoulder
All the pros and cons before you enter your credit card info.
by Dave Baldwin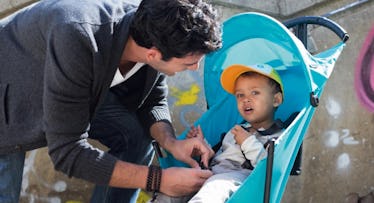 Looking for all of the Best Baby Gear of the Year, from jogging strollers to baby carriers? Click here.
Because not every baby stroller can be attached to a skateboard, the makers of the longboard stroller also developed the super light Yezz. It's an easy-to-fold umbrella stroller not propelled by push-kicking that's designed to make traveling with toddlers a breeze. Dubbed the "Travel Hero," the Yezz is made of a featherweight plastic (and easy-to-clean liquid repellant fabric), folds in a flash, and can be carried over your shoulder when Junior insists on running around the piazza in search of gelato. And if you want to know what users have to say about it (both the good and bad), here are some of the more salient online reviews.
RELATED: The Best Umbrella Strollers
Pros:
Baby Gear Lab awards the Quinny Yezz their top pick for travel, saying "Lightweight AND compact are difficult to find even in an umbrella stroller, yet the Yezz delivers here along with being easy to push, turn, fold, stand, carry, and store." Wow, show us pictures of your kids BGL.
"It turns on a dime," notes one Consumer Reports tester. "It was very responsive and very easy to push and maneuver."
In addition to being great for travel and lightweight enough to "easily be carried on your shoulder, " as one Amazon reviewer points out, it also apparently rides well "on carpet." Not sure who exactly is doing a lot of strolling on shag, but hey, more than one person mentions it.
Cons:
Consumer Reports is the killjoy, pointing out the barebones-ness of the Quinny Yezz stroller: "The seatback is not adjustable, a big minus for some parents and kids. Harness belts must be threaded through to adjust, which is time-consuming. Front swivel wheel cannot be locked." Otherwise, it's perfect.
A lack of storage is also a common complaint. Says BGL of the Quinny Yezz's back pocket, "It will hold enough supplies for baby for most day trips, but you may need to carry a backpack if your adventure plans are longer." Another Amazon reviewer is less diplomatic: "The lack of storage is horrid. You can maybe put a water bottle or something in the back pocket, but the child can feel that through their back."
Specifications:
Weight: 12lbs
Capacity Limit: 6 months to 40 lbs
Wheel Type: Solid
Wheel Dimensions: 4.75″
Suspension: None
Brake: Single-foot Parking Brake
Carrier Adapter: No
One-handed Fold: Yes
This article was originally published on