Qube Tents Connect To Make A Giant Camping Fortress
by Dave Baldwin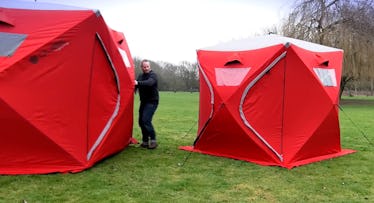 If there's a surefire way to dampen all the fun bonding that comes from spending a week together in the woods, it's by packing your entire family into a tiny tent. So don't. Instead, spread out your camping gear (and your kids) in Qube tents, interconnected network of tents.
RELATED: Elevate Your Camping Game With An Interconnected Modular Tent System
The latest outdoor accommodation from the makers of the popular Pod, Qubes are quick-pitch tents that can be set up in under 2 minutes (without disappointing your wife). Bonus: they attach to one another via a series of universal connector tunnels. Simply take it out of the carrying case and unfold. That's it. The flexible fiberglass poles are integrated so you're not stuck struggling in the rain to figure which one goes where. And Qubes are 7-feet tall, so unless you're related to Manute Bol, you shouldn't have any problem standing in, or walking between, them.
The tents are made of a heavy-duty, 300D waterproof nylon lined with black fabric to block the sun. They also have a built-in ventilation system to keep things cool. Plus, they're outfitted with a removable ground sheet to make post-camp clean up all the easier.
A few extras you can buy separately: A window-mounted solar panel and 3,000Mah battery pack, for charging the many devices you swore you wouldn't let the kids bring, and multi-colored LED strips to light that tent city up. Throw in an Ion Audio Pathfinder speaker and consider the party started.
Qubes are fully funded on Indiegogo and available in 2-, 3-, and 4-person models (for $250, $275, and $299, respectively). And in 3 colors (blue, red, or orange). You can mix and match sizes too, as they all connect to one another with the same $30 tunnels. Even better, if you pre-order now they'll be at your door by July. Or just in time to for a big week of internet-free bonding in the wilderness.
(Pre-order for July 2017)
This article was originally published on