The Puj Big Hug Is the Hooded Towel Your Toddler Needs
The clever towel keeps them cozy after a bath and also makes them look like a tiny caped crusader. What's not to love ?
by Amy Karafin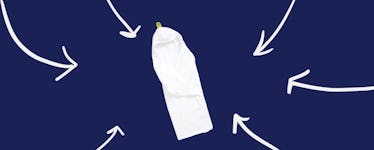 Bathrooms, to a protective parent, are dangerous places. There are so many hard surfaces everywhere — wet, slippery, potentially head-cracking surfaces. And a toddler in water, even if she's pretty good at sitting up, can seem so close to sliding just a little bit and tipping over. But the worst part is the end. The kid's all clean, nobody drowned, but then they're freezing — shivering, yelling, hopping (did we mention the wet, slippy porcelain?) — and parents need to get them warm quick. That's why we love the Puj Big Hug Towel. Soft, fluffy, and very user-friendly, the hooded towel slash bathrobe not only dries them quickly, but it's also a fun accessory that kids actually want to use.
The Puj Big Hug is a 100 percent cotton towel made specifically for children ages 2–8. (Puj makes one for infants, too, but unfortunately not one for larger kids: the Big Hug's only downside is that it can gape by the neck on the 5 and ups). The towel is, well, a towel, but it has a large hood as well as two pockets (one Fatherly staffer's toddler refers to these as "hand dents") where kids can put their hands. This allows them to wear the towel like a sweatshirt, dry their hands quickly, and easily swoop the fabric around themselves as though it were Batman's cape.
Another clever feature: On the Puj Big Hug's hood is a green silicone tab which, along with the towel's purposefully oblong shape, makes it easy for parents to grab and orient their child for a quick dry-down. And the towel actually does wrap around kids in a sort of inverse hug, making it all the more fun to give them a big warm (parent) hug when bath time's over.
Maybe the best part of the Puj Big Hug — well, after it keeping your child warm and safe — is that kids look effing adorable in it, like tiny superheroes ready to save the day. Or dry off safely, which is a superpower in its own right.
This article was originally published on