Project Lunar Is An Uber-Portable Camping Lantern That Charges Your Phone
by Dave Baldwin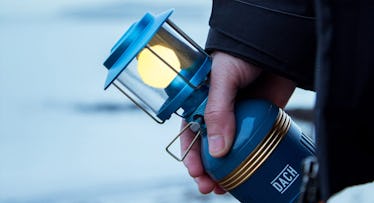 Getting kids to love camping is a challenge. And the biggest part of that challenge is convincing them to sleep in the woods. In the dark. Which they probably believe is full of Gargamels and whatnot.
RELATED: The Best Backyard Camping Gear
The easiest way to banish the fear of a night full of Smurf-eaters? Light that campsite up like your backyard on the 4th of July, with the help of this new uber-portable lantern.
Honestly, calling the Project Lunar just a lantern is a bit of an understatement. Sure, it can sit on the table and hang from a tree, but it also converts to a flashlight with an adjustable zoom range, a floodlight that can mount magnetically to a trailer, and even a quasi-headlamp that attaches to your backpack. And that's not even its biggest selling point. No, this waterproof aluminum lamp, unlike most LEDs, produces low-heat, "warm white light." Which means everybody sleeps better in the tent (assuming they aren't all reading iPads before bed). Everybody that is, except for bugs, since warm light doesn't draw as many insects.
Project Lunar boasts an adjustable knob so you can choose your level of brightness. Those levels range from a dim "time-for-bed" 20 lumens to a "let's blow this patio party out" 470 lumens (or the equivalent of a 60-watt bulb). The Project Lunar can run anywhere from "10 to 240 hours" on a single Li-Ion charge ⏤ which means no "D" batteries to die right when the branches start rustling. There's also a convenient battery indicator to let you know how much juice you've got left. Plus, it has a USB port to recharge that iPad. You know, so your kid can watch the Smurfs, for research.
(Pre-order for May 2017)
This article was originally published on