Meal Prep Made Simple: The Prepdeck Is an All-in-One Kitchen Station For Home Cooks
It instantly ups your cooking game.
by Donna Freydkin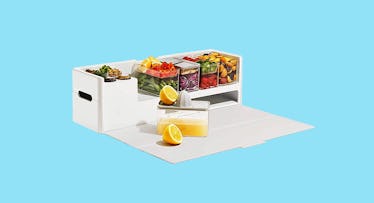 Mis en place means, directly translated, everything in its place. It's chef-lingo for having all your ingredients prepped (mushrooms diced; peppers julienned; sauces proportioned out, etc.) so they can get highly intricate meals cooked, plated, and out on time. The more complicated a meal, the more meal prep it requires. While home chefs aren't whipping up Michelin-starred meals or, for that matter, meals for 100 diners, organization is still the backbone of good cooking. And it's why we're such big fans of the Prepdeck, a handsome and space-conscious rectangular box that has 45 different features and add-ons to help home chefs prepare and store everything a meal requires.
The Prepdeck is more or less an all-in-one prep staton that takes up a small section of countertop space. The top cover unfolds and doubles as a cutting board. Unfurling it reveals a collection of different-sized plastic containers to store all your ingredients, including sauces, herbs, and chopped, diced, or, if ya fancy, batonnet-ed vegetables. There's even a very handy trash bin in which you can throw skins and other scraps.
Each of the Prepdeck's container is removable and features a number of attachable lids that help streamline meal prep. On the bottom is an accessory drawer in which you'll find said lids. They include everything from a slicing lid to a juicing lid that snap on. This means that there's no more scrambling around for the damn juicer you know you put in the third drawer on the left. Or hunting for a garlic press that no one remembers seeing in this or any decade.
For busy meal-preppers, the best feature is the time saved. The night before, you can fill up containers with the spices and ingredients you need, so everything you need for breakfast and lunch the next day is ready and waiting.
Here's the rundown of everything you get with the Prepdeck:
Fifteen ingredient containers in four different sizes, to store everything from salt and parsley to diced peppers and cheese.
An integrated cutting board that doubles as interchangeable exterior.
Storage drawers.
A grater zester, juicer, garlic crusher.
4-in-1 peeler/julienne peeler, green striper, bottle opener.
A stand for your phone or tablet so you monitor what you're cooking. Or what's otherwise called a recipe.
When you're done using the Prepdeck, it can either sit on your counter, if you're one of those lucky bastards with a lot of counter space. Or it all folds up together, origami-style, and gets put away until your next culinary masterpiece. Family meal prep has never been so easy.
Every product on Fatherly is independently selected by our editors, writers, and experts. If you click a link on our site and buy something, we may earn an affiliate commission.
This article was originally published on