The Best Premium Food Delivery Services for Families
Gourmet cheese. Wild-caught salmon. Bon appetit.
by Donna Freydkin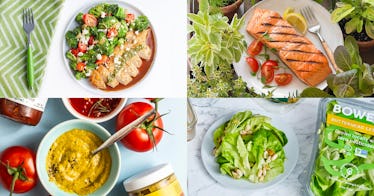 Even if you're no Bobby Flay in the kitchen, you can still put a solid, respectable, non-embarrassing meal on the table — especially when we're all pretty much stuck indoors, trying to find stuff to do with our kids, and have premium food delivery services at our disposal. Instead of hauling yourself to the grocery store and attempting to practice some form of social distancing, the experts are here to be called in. The best food delivery services cater to every dietary need, flavor specification, and schedule; plus, you can choose pre-made meals, as well. The ones on our list run the gamut from meal deliveries families can cook together, to more rarified offerings for gourmands who can't go a week without artisanal brie.
No matter which online food delivery option you choose, bear in mind that this goes way beyond just shoveling food down your gullet. Eating is a communal experience, especially for kids. Family dinner engages their senses and helps finicky eaters explore foods through texture, color, and smell. Cooking also helps kids learn about math and science, as they measure out ingredients and see how temperature can change what foods look and taste like.
In short, food brings families closer. Most of all, it gives children a sense of power and control, when they have input on what's being cooked and how it's being made. Plus, there's the satisfaction of seeing raw eggs (cooked under parental supervision, obviously), flour, milk, and sugar transformed into fluffy pancakes. Here, then, are some of our favorite food and meal delivery services, based on food quality, meal and ingredient variety, and just sheer deliciousness.
Every product on Fatherly is independently selected by our editors, writers, and experts. If you click a link on our site and buy something, we may earn an affiliate commission.