This Simple Plastic Potato Helps Kids Express Themselves While Building Skills
Plus, for children (and parents) who can't draw, it's way more fun to stick an ear where the nose goes.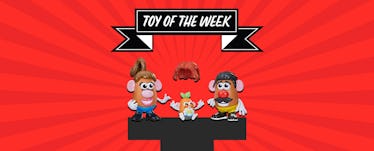 Despite the bad wrap adults ascribe carbs, the Potato Head remains a classic kid's toy. There's a good reason for it. While children see it as a fun play experience, this spud family is basically developmental CrossFit—sans the tire flipping and grunting.
On the surface, the three-potato set here, which includes a 3-inch-long baby tot and 45 accessories, helps kids express what their family looks like and means to them by playing out the relationship between parents and child. It's the same experience you remember as a kid: before putting the arms in the atomically correct position, you'd stick one where the eyes go, maybe the other where the hair normally is.
But the skills and growth the toy help develop dig deeper than that for kids ages 2 and up. For kids under three, they'll learn basics like grasping with the whole hand and then the coordination required to use them both in front of their body. That ability to cross midline is something they'll use late to cut paper with scissors or while handwriting. Then there is the coordination: While one hand holds the plastic potato body, the other pops in the eyes or feet. Remember we said it's like CrossFit? Have your kid play with this on a right-sized table. Inevitably they'll drop parts on the floor and have to squat down to pick them back up.
The adult Potato Heads have doors built-in that can help store some of the smaller pieces. Fishing those out can be a challenge for kids too. Or you can dump the body parts into a bag and make it a fun learning experience. Ask them to reach in, without peaking, and yank out specific parts like an arm or the eyes. That helps them develop the skill to identify things with touch alone, which they'll use to refine higher-level motor skills later. Positioning those parts correctly on the body helps kids develop spatial awareness, which is important in those pre-writing years. Learning the hat goes on the head or the nose goes below the eyes makes it easier for them to grasp concepts like the line that goes on top to form the letter T.
A toy like a Potato head is fun to play with while it's also a stealthy teaching tool as they enter preschool. Let them enjoy the potato now. You can have the "good carbs and bad carbs" conversation later in life.
Every product on Fatherly is independently selected by our editors, writers, and experts. If you click a link on our site and buy something, we may earn an affiliate commission.
This article was originally published on