This Postpartum Kit Takes (Some of) the Stress Out of Having a Newborn
by Donna Freydkin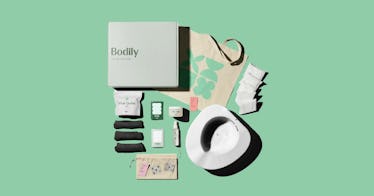 There's something magical, almost otherworldly, about meeting your newborn for the first time. But the recovery from getting that baby out? Not so much. New moms deal with tears and leakage and hemorrhoids, among other physical challenges, pains, and messes, and a postpartum kit, one equipped with such unmentionables as postpartum pads and mesh underwear, can be an absolute dignity and sanity saver. And no, that's not hyperbole.
Bodily Care's V-Kit takes postpartum care and makes it look elegant. Really. While also being eminently practical. The kit, created for women who have gone through vaginal delivery, includes cooling peri spray made with alcohol-free witch hazel, cucumber, and peppermint. There are sitz salts, which, for the uninitiated, are used to soak the vaginal area and provide some relief, plus a sitz bath tub that can clear up hemorrhoids when used with epsom salts. It fits right over the toilet seat.
And then, of course, she gets three gorgeous mesh undies (made famous by Amy Schumer, who posed with them after giving birth to son Gene), 14 oversized maxi pads, and stool softener. There's also a belly band, but that's extra.
Look, can you get all these products in a drugstore, without the pretty packaging? Of course you can. But does a new mom deserve every bit of pampering, especially anything that makes her feel more human and dignified? Damn right, she does.
More Postpartum Kits to Help New Moms
Every product on Fatherly is independently selected by our editors, writers, and experts. If you click a link on our site and buy something, we may earn an affiliate commission.