This Portable Fire Pit Is the Hottest Prime Day Deal You'll Find Today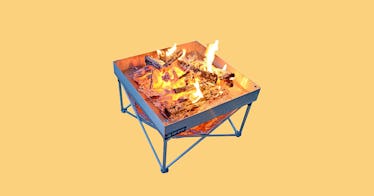 Fire pits rule. They're centerpieces, gathering spots, kitchens, and places to get warm. But they're for people with big backyards. Right? The Fireside Outdoor portable fire pit proves otherwise, allowing you to bring the campfire with you, no matter where you go. Oh, and it's currently enjoying a 21 percent discount for Amazon Prime Day.
Clearly the biggest selling point of this fire pit is its portability. At 8 pounds, it's about the weight of your typical camp chair, so it's light enough to strap to your backpack and bring with you into the woods. (A note from Smoky: This is a no-go for California or any dry wilderness area; only woods where there is no fire hazard and portable fires are sanctioned). Furthermore, its heat shield makes sure that you leave no trace — keeping the fire contained to the pit with any errant ash and spark being caught in the shield. This lowers the chance of scorched earth or unwanted flames.
The Fireside Outdoor pit is ideal for camping, but also for families with smaller or paved backyards. The heat shield is meant to protect patios from scorching, meaning s'mores are on for anyone with a little bit of space to spare. The 8-pound pit can hold a whopping 120 pounds of wood, so if you have the space for it, let that fire roar. It also cools in under 90 seconds, so if you want to warm up in the morning, you can cool and pack it without getting a chill.