Best Portable Air Conditioners To Always Keep You Cool
Say goodbye to sweat stains.
by Jon Gugala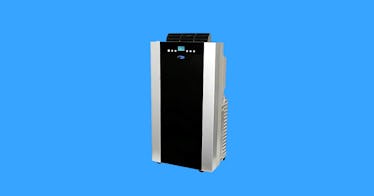 You want to be comfortable in your own home, especially when it's steamy outside. And while central air is great, the best portable AC units are more than up to the task of keeping you cool. So if you don't have a built-in AC or just want to keep things extra cool at your summer house, a portable air conditioner is a great choice. Because the only thing worse than the slow trickle of sweat down your lower back in the middle of summer is experiencing that indoors.
We checked with Consumer Reports to find the things to keep in mind when shelling out for a new AC unit. You want it to be energy-efficient, so look for the New Energy Star label, and double-check the noise level to make sure the unit is quiet enough for you. Then, choose between a window unit—many of which can handle a whole room—or a portable air conditioner, many of which are more powerful, and all of which are easier to store during the winter.
Even better is if you can control the AC from your phone as part of your smart home setup, so you don't waste energy during the day when you're not home. The filter should be easy to access and easy to clean. Ever seen a filthy AC filter? You won't want to. Trust us. And most of all, get the unit that's ideal for your space. The bigger the room, the more BTU you'll need. Most ACs range from 5,000 to 12,500 BTUs.
Of course, the offerings are as diverse as climates. If you're in an arid mesa, your best bet won't be the same for another located deep in the Cajun bayou. And then there's budget. Regardless of whether you've got a lot or a little to drop, we've got an option for you. Our favorites are as diverse as you, and there's something for everyone—and every dollar amount.
Best Portable Air Conditioners
Pros: This thing can cool, humidify and purify the air around you. And it runs off a USB power supply to cool the air right around you.
Cons: Well, it has minimal power, so don't expect wonders. But it's great for hot rooms, or even hot outdoor music festivals.
Pros: This is a great and economical way to heat and cool your home. You get climate control with this 9000 BTU unit. It has a SEER rating of 19.
Cons: Installation can be a challenge.
Pros: The raison d'etre of this unit is the built-in Alexa, which allows you to adjust the temperature with your voice. It's also a solid 14,000-BTU unit on its own that can cool, heat, dehumidify, and recirculate the air in your home.
Cons: If you have a Google Home setup, the smart functionality of this AC is a bit limited. It also comes with a carbon filter that isn't washable; you'll have to pay extra for filters you can rinse and reuse, which is kind of annoying for something that costs $400.
Pros: The Honeywell Contempo portable air conditioner easily cools 350 to 450 square feet. It has a remote control. Unlike a window unit, this portable AC has wheels to move it from room to room. smooth-gliding caster wheels provide easy mobility from room to room. It has a flexible exhaust hose and an easy-to-install window venting kit. The window vent can be removed when the unit is not in us
Cons: The vent doesn't fit every window, so measure accordingly.Also, if you're not into having an AC on wheels, this one isn't for you.
Pros: The aesthetics of this thing are as inoffensive as possible, and the blue LED display is part of an easy to operate control panel located on the top of the unit. It also comes with a remote control that makes it easy to control from across the room.
Cons: It only works in double-hung or sliding windows, so look elsewhere if your home has crank windows.
Pros: With a massive max-effective range of 350 square feet (almost a 20-by-20 room), this thing has a certain je ne sais quoi that others on this list are lacking. Once the room is cool, switch to its low fan mode, which emits a minimal 52-decibel sound. It also dehumidifies, pulling up to 60 pints of moisture from the air per day.
Cons: Its exhaust hose must run out a window, which prevents this unit from being truly portable. And it's loud.
Pros: With a 10,000 BTU output, this is one of the strongest units on the list, and the most (well, probably just over what) most rooms in the U.S. need. While the company doesn't post its units' range, they claim that some customers use two or three of these to cool an entire home. From our experience, we see this as a distinct possibility. Of course, the unit comes with the traditional perks of dehumidifier function, remote, LCD readout, timer, and multiple fan settings.
Cons: My goodness, is this 63-pound behemoth heavy. Despite the company's assurance that this unit is portable, the only way we could recommend this is if it also had a steering wheel. Also, just like others on this list that don't use water to cool, you'll need to run a hose out a window (parts included) for exhaust.
Pros: The sleek look of this air conditioner is definitely a departure from the boxy models of the past, as is the companion app that lets you control your unit from anywhere and connect it to your existing smart home setup.
Cons: This unit weighs a hefty 85 pounds, so it's hard to move around on carpeted surfaces even with the included wheels.
Pros: This AC unit is cool because it features self-evaporating technology, which uses and recycles moisture collected during the cooling process to produce cool air. It also switches into a dehumidifier as needed. It has a full thermostatic control (61°F – 89°F) with full digital readout. Plus, at 14,000 BTU, it's a total chiller powerhouse.
Cons: Like other models, you need a window for the hose. And like other models, this too will take up floor space.
Every product on Fatherly is independently selected by our editors, writers, and experts. If you click a link on our site and buy something, we may earn an affiliate commission.
This article was originally published on